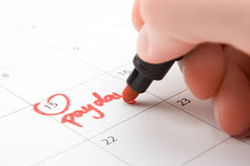 Your solution to payroll
Garden City, NY (PRWEB) June 28, 2016
Found in the resource tab of nazpayinc.com, Nazpay's E-books display why the appropriate planning is necessary to ensure that businesses run smoothly.
Nazpay's E-book include "All in the day's work: The ins and outs of being the boss", "Seven Stages of a Business", "Paying your Payroll", "How to market your small business in a big way", "How to manage your payroll in an easy & efficient manner", "What constitutes a small business", and "Making the most of your HR department". All of the following show readers how and why financial planning is pivotal to a successful business from both a payroll, marketing, and sizing standpoints.
A great example can be found in Nazpay's E-book "All in a day work: The ins and outs of being the boss" which details many of the responsibilities that come along with managing a business and the financial effects that can come from them. "Making the most of your HR department" takes readers through everything that HR departments deal with, hopefully helping business owners make the decision as to whether or not it will be more feasible to outsource or go with the in-house method.
These are all things that business owners should consider when planning out their finances. Without the proper planning, businesses can themselves short on resources and difficulty allocating revenue. With the goal of assisting small to medium sized businesses, Nazpay hopes that through proper financial planning, they will become financially sufficient.
Nazpay payroll specialist Lisa Halinan express why she believes proper planning is the key to a successful business. "Nazpay is dedicated to servicing its clients and what better way to accomplishing that than first educating them on the importance of developing a financial strategy."
With services ranging from time and attendance to payroll taxes, Nazpay simplifies your payroll process, starting with the gathering of your employees' information. An experienced Payroll Specialist can contact you with one quick phone call each pay period, or you can send your payroll data via fax.