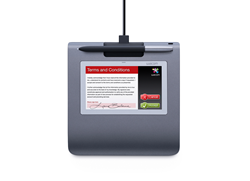 Many of the ER patients go straight to a room, and using Access e-Signature with Wacom pen displays will make it easier for them to sign forms while in a bed instead of having to sign five or six sheets of paper.
Portland, OR (PRWEB) June 28, 2016
Today, Wacom and Access announced that Glendora Community Hospital, a 128-bed acute care hospital located in Glendora, California, has successfully implemented their electronic forms and signature pads in the ER and admissions departments.
The e-forms product is seamlessly integrated with the hospital's MEDITECH EHR, making it easy for registration staff to generate forms packets directly from MEDITECH, and send completed documents into each patient's record.
Wacom's STU-530, chosen by Glendora Community Health, is the ideal signature pad for use in customer-facing settings like ER and admissions departments because it offers an intuitive and comfortable signing experience for patients and staff. In addition to capturing handwritten signatures, the full color HD screen can be utilized for patient communications, insurance information or branding purposes.
"Access's e-forms solution saves time for registration clerks because they can generate forms directly from MEDITECH instead of assembling paper packets," said Greg Rott, System Administrator at Prime Healthcare Management. "It also saves money due to the paper reduction."
Glendora Community Hospital first deployed Access's e-forms and electronic patient signatures solution with Wacom's signature pads in the Emergency Room. This department sees the highest amount of incoming patients and therefore uses the most forms. Since this successful initial rollout, the hospital has extended its e-forms project to the admissions department.
"Many of the ER patients go straight to a room, and using Access e-Signature with Wacom signature pads will make it easier for them to sign forms while in a bed instead of having to sign five or six sheets of paper on a clipboard," Rott said.
One of the factors that helped make Glendora Community Hospital's e-forms implementation go so smoothly was the close collaboration between Rott and Access's professional services team.
"Access's project manager has been very helpful at every step and their workflow consultant made sure the product would fit well with the hospital's daily processes," Rott said. "They've been great to work with throughout this implementation."
"We're proud to help Glendora Community Health and other customers advance their paperless initiatives," said Access President Mark Johnston. "The combination of our solutions, Wacom's signature pads and MEDITECH's EHR enables hospitals to easily capture secure electronic signatures on consents and any other type of form and send these directly into the patient record, whether that's at the bedside, registration desk or any other location."
About Wacom
Founded in 1983, Wacom is a global company based in Japan with subsidiaries and affiliate offices around the world to support marketing and distribution in over 150 countries. Wacom's vision to bring people and technology closer together through natural interface technologies has made it the world's leading manufacturer of interactive pen tablets and displays as well as of digital styli and solutions for saving and processing digital signatures. The advanced technology of Wacom's intuitive input devices has been used to create some of the most exciting digital art, films, special effects, fashion and designs around the world and provides business and home users with leading interface technology to express their personality. Wacom's eSignature solutions are utilised in a variety of application areas in which achieving a digital workflow with high-level security is crucial, such as: POS, ePayment, electronic passports, insurance, banking and hotel check-in.
For further information about our solutions, please also see http://business.wacom.com
About Access
For more than 15 years, Access has developed electronic forms management solutions that eliminate the unnecessary expense, risk and inefficiency of paper forms. Our 100 percent paperless technology enables organizations in any industry to capture, manage, sign and share forms data without printing or scanning. Learn more at http://www.accessefm.com.
About MEDITECH
Today, more than 2,400 institutions worldwide use MEDITECH's clinically-integrated and interoperable EHR to provide healthcare to the communities they serve. Their robust, patient-centered technology spans the healthcare continuum, including unique functional capacity for ambulatory care, acute care, long-term care, rehabilitation services, behavioral health, and home care. For additional information, visit: https://ehr.meditech.com/
About Glendora Community Hospital
Glendora Community Hospital is a 128-bed full-service, acute care hospital centrally located in Glendora, CA and aspires to be the leading community health center in the East San Gabriel Valley. Services provided include comprehensive acute care medical, intensive care, surgical services – inpatient and outpatient, critical care, telemetry care, diagnostic imaging, 24-hour basic emergency services, women's health services, clinical laboratory, comprehensive perinatal program, and cardiopulmonary services. For more information, please visit http://www.glendorahospital.com.
About Prime Healthcare Foundation
Prime Healthcare Foundation, headquartered in Ontario, California, is a 501(c)3 public charity with $650 million in assets all donated by Dr. Prem Reddy and his family. The mission of the Prime Healthcare Foundation is to provide quality, compassionate healthcare for all, and serve communities through various charitable and educational initiatives. Prime Healthcare Foundation's for-profit affiliate is Prime Healthcare Services, an award-winning national hospital system with 38 acute-care hospitals providing nearly 40,000 jobs in 11 states. Seven of the hospitals are members of the Prime Healthcare Foundation. Prime Healthcare and its hospitals have been featured prominently among the "100 Top Hospitals" in the nation 33 times and among the "15 Top Health Systems" three times. Prime Healthcare hospitals are recognized as "Top Performers on Key Quality Measures" by The Joint Commission and Prime Healthcare is the only "10 Top Health System" west of the Mississippi. For more information, please visit http://www.primehealthcare.com.