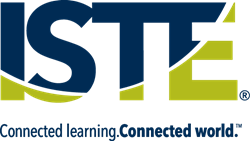 The 2016 ISTE Standards for Students are about amplifying learning and empowering the student voice.
DENVER, Colorado (PRWEB) June 27, 2016
Today at ISTE 2016, the refreshed ISTE Standards for Students were unveiled. These aspirational, student- and expert-inspired standards are designed to guide learners who live, work and play in a technology-infused world. More than 2,700 people from 52 countries participated in their creation, including nearly 300 students—perhaps the most innovative aspect of the development of the 2016 student standards.
"The 2016 ISTE Standards for Students are about amplifying learning and empowering the student voice," said Brian Lewis, ISTE CEO. "These standards apply globally and can be adopted no matter where educators are on their paths to the thoughtful integration of ed tech."
Supporting a learner-driven approach, the 2016 ISTE Standards for Students are a blueprint by and for innovative educators worldwide to guide education transformation and meaningful, future-ready learning. They are not about devices or using technology; they are about giving voice to learners the world over and ensuring that learning is a student-centered process of exploration and discovery.
The refreshed ISTE Standards for Students are already resonating within and outside of the education community.
Actor and education advocate LeVar Burton commented on the 2016 ISTE Standards for Students saying, "While I've always been excited to see how current and future technologies revolutionize the way we learn, I also recognize that it is about the learning—not the tech. The new ISTE Standards for Students illustrate that. When all kids learn in an environment infused with technology and digital resources, the educational playing field is leveled, and they are prepared to be lifelong learners."
Part idea incubator and part collaborative workspace, the ISTE Annual Conference & Expo is the epicenter for leading-edge thinking about the thoughtful and appropriate integration of technology in learning and teaching. It's where educators and education leaders share discoveries and develop solutions for their greatest challenges—all while connecting with a global network of education resources. Additional information about ISTE 2016 is available at http://www.isteconference.org.
About ISTE
The International Society for Technology in Education (ISTE®) is the premier nonprofit membership organization serving educators and education leaders committed to empowering connected learners in a connected world. ISTE serves more than 100,000 education stakeholders throughout the world.
Innovative offerings include the widely adopted ISTE Standards for learning, teaching and leading in the digital age– as well as the ISTE Conference & Expo–the world's most comprehensive ed tech event. The organization's robust suite of professional learning resources feature online courses, consulting services for schools and districts, books, and peer-reviewed journals and publications. For more information, visit iste.org. Connect with ISTE via Twitter, Facebook and LinkedIn.