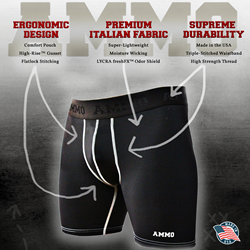 "My AMMO fits like a glove," said Greenfield, a NY Times Bestselling Health & Fitness author and tri-athlete. "This is the coolest underwear I've ever worn, bar none."
Cleveland, Ohio (PRWEB) June 28, 2016
Today AMMO Athletic announced the launch of a Kickstarter crowdfunding campaign for its line of game-changing athletic underwear. The campaign aims to raise $10,000 to complete production of the company's 3/4 length tights, as well as pre-sell AMMO's next delivery of base layer shorts.
"Today's athletes need performance apparel that actually performs," said founder and CEO Jason Cellura. "AMMO is all about bringing quality back. We were tired of the poor fit and declining durability of our compression shorts and tights, so we decided to do something about it. AMMO keeps athletes cool, dry and supported with light-weight Italian fabric and the perfect fit. They do everything you could ask for."
The early 2016 release of AMMO's base layer shorts has garnered support from fitness leaders like Ben Greenfield, Ross Enamait and Tony Gentilcore, and has earned a perfect 5-star rating from customers.
"My AMMO fits like a glove," said Greenfield, a NY Times Bestselling Health & Fitness author and tri-athlete. "This is the coolest underwear I've ever worn, bar none."
With the help of its Kickstarter campaign, AMMO Athletic expects to deliver a second round of base layer shorts and introduce 3/4 length tights to customers ahead of the fall sporting season.
"We are 100% production-ready," said Cellura. "Our team is excited to start production on the next great AMMO Athletic product."
About AMMO Athletic
AMMO Athletic is an innovative athletic wear company focused on improving the fit, feel and performance of your most important gear. AMMO's first product, a cutting-edge men's base layer short (or athletic underwear), incorporates super light-weight Italian fabric and an ergonomic design to provide supreme comfort and performance.
On June 28th, AMMO Athletic launched a Kickstarter campaign for its next game-changing product, a 3/4 length performance tight. Visit http://www.ammoathletic.com/kickstarter to learn more.
AMMO Athletic is headquartered in Cleveland, OH. Connect via Instagram, Facebook & Twitter.
For the full AMMO Athletic press kit visit http://www.ammoathletic.com/press