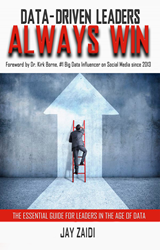 Data informs better outcomes, drives change, and creates new value.
Washington, D.C. (PRWEB) June 27, 2016
Most organizations are seeing their data volumes rise by 30 to 50 percent every year, and are being forced to undergo a digital transformation. This is creating a tumultuous period of change for them. Private and public sector companies have to manage, govern, and analyse this data to generate insights, manage risk, and create business value.
Dr. Kirk Borne, the #1 big data influencer worldwide on social media since 2013, states the following in the foreword - "Data collections are now recognised as a core business asset, a new natural resource, a driver of business change and innovation, a source of increased and/or new revenue streams, a creative force for new products and new markets, and a job opportunity bonanza for those with essential data skills."
Leadership 2.0 is the new management model, in which data plays a critical role in organizations; where decisions are made and power and authority are distributed on the basis of knowledge, rather than organisational hierarchy. Being data-savvy and data-driven are core skills for leaders in this "Age of Data". Information technology will continue to play a critical role, but data must take center stage going forward.
To address the challenges and rewards that are now facing data-driven leaders, Jay has brought us a timely book that is based on his many years of data management, governance, and analytics experience. This book is not another hype-driven cheerleading treatment of the subject, but it is a practical, evidence-based, and experience-backed look at both the power and the pitfalls of the modern data-driven leader. The key theme is expressed in the book's title – that the way to win the battles that your organisation is facing is through the power of data (and knowledge).
The book is targeted to readers across all industries and skill levels. It is available in paperback, and eBook formats via Amazon.com and thousands of online and offline bookstores. The list price for the paperback edition is US $24.95 and the eBook is priced at US $9.99.
About Jay Zaidi
Jay Zaidi is the founder and managing partner of AlyData (http://www.alydata.com/). As an entrepreneur, strategic advisor, and thought leader he specialises in strategic data management, analytics, and change management. His firm provides services and solutions to help companies improve decision-making and performance, using data as their weapon of choice. Jay founded AlyData in 2014. For the thirteen years prior to that, he led enterprise data management programs at Fannie Mae. At Fannie Mae, he directly reported to the chief data officer and led data quality, metadata, master data management, analytics, and business intelligence organizations.
For more information about Data-Driven Leaders Always Win - An Essential Guide For Leaders In The Age of Data and to obtain a media kit for the book, please visit http://javed-zaidi.wix.com/alydata3-1#!alydata-book/z1yd8.
The book can be ordered from Amazon's website - https://www.amazon.com/Data-Driven-Leaders-Always-Win-Zaidi/dp/0692720081/ref=sr_1_1?ie=UTF8&qid=1466961378&sr=8-1&keywords=jay+zaidi