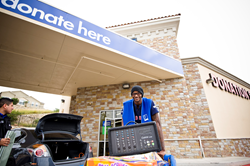 CEO John McCain said, "The drive-through donation center affords accessibility and ease for everyone, and we believe people will enjoy using it. "
(PRWEB) June 27, 2016
On July 11, 2016, local area residents will no longer have to brave the wind, rain, heat, and snow to donate goods to Horizon Goodwill. CEO, John McCain said, "We are excited to open our first drive-through attended donation center in Hagerstown. We understand convenience is important to our community donors. The drive-through donation center affords accessibility and ease for everyone, and we believe people will enjoy using it. When the community donates clothes, household goods, and toys, it helps us to create jobs for the people we serve. It is a win-win for everyone involved."
There will be a grand opening and ribbon cutting July 14, 2016, at 9:00 am at Horizon Goodwill headquarters/drive-through center at 14515 Pennsylvania Avenue across from Nick's Airport Inn. During the grand opening, everyone who donates items will receive a $5 off coupon to use in any of the Horizon Goodwill Industry (HGI) stores. There will also be refreshments (first come, first serve) and some great giveaways during the day. The attended donation center will be open from 9 am to 6 pm during the event.
The drive through covered drop-off area has an attendant that will be available to help each donor Monday through Saturday 8am to 8 pm and Sundays 10am to 6 pm. "There is no need to leave your car," says McCain. "We know how busy people can be overseeing both work and family, so we simplified the process for everyone."
This new beneficial service is necessary to Goodwill and those who support HGI. Donations are an integral part of the Goodwill programs. Goodwill operates three divisions: donated goods, mission services, and business services. Community members donate their items, and Horizon Goodwill processes them for sale. After selling the items in the retail stores, the funds are used to provide paid job training for individuals who need it and hire others to help in Goodwill business services.
Horizon Goodwill Industries, whose mission is "Removing Barriers, Creating Opportunities," is a non-profit organization dedicated to ensuring that all people have access to jobs despite significant obstacles. Horizon Goodwill serves over 5,000 clients annually in a 17 county region that includes parts of the states of Maryland, Pennsylvania, Virginia, and West Virginia. For more information, please visit http://www.horizongoodwill.org.
###