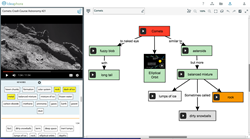 Portland, OR (PRWEB) July 06, 2016
Ideaphora, the only provider of knowledge mapping technologies that seamlessly integrate with digital content, has raised funding from its initial partner, BrainPOP®. The investment bolsters Ideaphora's product development and sales and marketing efforts as it prepares to launch a subscription-based online concept mapping environment. The terms of the financing were not disclosed.
Ideaphora is developing a browser-based knowledge mapping tool that will integrate with a wide range of digital content, including open education resources, for districts, schools and educators to promote higher order thinking skills. Improving students' assimilation of digital content is critical as schools and districts increasingly transition away from print. Since releasing a beta version of its tool in the fall of 2015, Ideaphora has conducted more than 25 classroom pilots with teachers and students across the United States and the globe.
Previously, Ideaphora's technologies were only available via the content providers with whom they partnered, such as BrainPOP. Available to BrainPOP customers, Make-a-Map™ powered by Ideaphora enables students to draw connections among concepts, images, and clips from BrainPOP educational movies. By interacting with the videos and building concept maps, students increased time on task and their understanding of the material they watched.
Students in schools using BrainPOP have created nearly 600,000 concept maps in Make-a-Map during the 2015–2016 school year. The overwhelmingly positive response from educators and students alike to Make-a-Map and the rapid growth of its usage led to BrainPOP's investment in Ideaphora.
Ideaphora's technologies are the first to deconstruct digital content into meaningful concepts, automatically generating keywords that students can drag-and-drop into their knowledge maps that they build right alongside the resource. Through the easy-to-use tools, students can reconstruct concepts into personalized, lasting knowledge. Students can click the keyword nodes on their maps to go directly to the exact points in the content from which they were derived for easier studying. Ideaphora enables students to take notes and organize material, connect ideas, analyze information, and apply their knowledge – all in one screen.
Feedback from users during beta testing and classroom pilots of Ideaphora's new tool have informed several enhancements and updates that were rolled out throughout the year. Ideaphora plans to launch its stand-alone tool this summer for an annual subscription fee.
Learn more about Ideaphora at ideaphora.com. Educators interested in exploring Ideaphora with their students can sign up for the free classroom pilot program.
About Ideaphora
Ideaphora is committed to shaping young minds by developing technologies that help students learn how to construct, retain and apply knowledge from the growing array of digital content. The company offers the first-of-its-kind learning environment that enables students to engage with and assimilate online content in a way that's seamless, effective and personalized. Ideaphora supports schools and educators in extending the proven practice of concept mapping to the demands of today's digitally driven world. Visit Ideaphora.com for more information or contact info(at)ideaphora(dot)com.