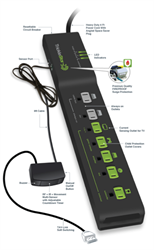 "The addition of support for ZigBee® RF4CE™ and TAV-Link into our Tier 2 Advanced PowerStrips helps ensure a great user experience and paves the way for more than 30 million US pay-tv customers to save energy with our new Tier 2 Advanced PowerStrips"
Wilmington, Delaware (PRWEB) June 28, 2016
TrickleStar LLC (TrickleStar), the industry leader in Advanced PowerStrips, today announced the launch of a new Tier 2 Advanced PowerStrip (APS) that helps DirecTV® and Comcast® customers save energy while providing an outstanding user experience. Balancing a good user experience with saving energy is often a challenge. Being too aggressive on energy savings objectives often impacts the user experience negatively.
Existing Tier 2 Advanced PowerStrips deliver energy savings by switching the TV off along with the peripherals when a user is no longer present (e.g. children have wandered off or someone has fallen asleep in front of the TV). This is known as an 'active shutdown'. The challenge with this type of technology is that it is critical to correctly determine user absence. If this is done incorrectly, a Tier 2 Advanced PowerStrip becomes extremely intrusive and leads to a poor customer experience by switching off the TV while a user is watching TV.
Current Tier 2 Advanced PowerStrips that rely on InfraRed-sensing only technology to determine user absence have a serious shortcoming. If a user is using a DirecTV® and Comcast® radio frequency (RF) remote control (Genie™ or Xfinity™ models) no IR signal is generated and the Tier 2 APS will frequently determine the user is absent. The TV and peripherals then switch off during viewing. This leads to serious user frustration, in many cases the APS is uninstalled and pay-tv providers being reluctant to support Advanced PowerStrips as they negatively impact their customers viewing experience.
Incorrectly switching off a users TV and peripherals correlates very tightly with user dissatisfaction of Tier 2 Advanced Powerstrips according to a 2016 PG&E study .
"For pay-tv providers to be involved in large energy efficiency deployments of Advanced PowerStrips, the technology should not negatively affect the pay-tv customer experience in any way "said Bernard Emby, CEO of TrickleStar. "to deploy Advanced PowerStrips at scale with pay-tv providers, manufacturers of energy saving products must ensure that energy savings are not delivered at the expense of the user experience".
The new TrickleStar Tier 2 Advanced PowerStrip includes a patent-pending multi-sensor that accurately determines user absence or engagement and includes;
1. InfraRed (IR) sensing of standard IR remote control commands.
2. Passive InfraRed (PIR) motion sensor to detect motion around the television.
3. ZigBee® RF4CE radio frequency (RF) sensing of RF remote control commands.
The addition of ZigBee® RF4CE™ signal detection allows for much highly accurate sensing of user engagement and along with IR and motion sensing virtually eliminates the possibility of incorrect active shutdowns.
Additionally, the new TrickleStar Tier 2 APS also includes TAV-Link™ soft-switching to ensure compatibility with new generation Smart TV's. TAV-Link™ is based on the Consumer Electronics Control™ (CEC) protocol and allows for smart TV's to gracefully power down and store their settings before power is removed. A number of Smart TV's enter a configuration mode and require a customer to spend time navigating setup screens after a hard power down. TAV-Link™ soft-switching eliminates this problem.
TrickleStar™ and TAV-Link™ are trademarks of TrickleStar Limited. All other trademarks are the property of their respective owners.
About TrickleStar
TrickleStar manufactures affordable, simple and easy-to-use products, which help everyday people reduce energy consumption in their homes and workplaces. We lead in the design and manufacture of products that conserve energy, improve people's lives and minimize environmental impact.
We are recognised for our product quality, superior safety features and outstanding customer service. Our award winning plug-load management solutions are the choice of electric utilities, energy efficiency programs, implementation contractors and energy auditors nationwide.
With offices in the United States, Malaysia and Hong Kong, TrickleStar is taking its products, and its energy conservation message, around the world. At TrickleStar, we are proving that "going green" can be good for our customers, good for business and good for our planet.