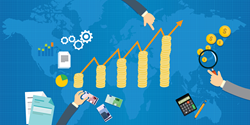 If you understand the unique opportunities and challenges of international accounting, you'll be able to help a company to grow and expand its overseas operations – which is an extremely appealing aptitude for employers
London, England (PRWEB UK) 27 June 2016
London School of Marketing has released a blog post, advising students who are planning to launch a career in accounting to make sure they have developed a good understanding of global accounting standards before they graduate. Employers around the world value graduates who have taken the time to develop their knowledge in this complex area, the post explains.
Chrishanthi Ranwaweera, LSM's student advisor, said: "Companies around the world operate under the framework provided by International accounting standards, so it's unsurprising that many of them prefer to employ graduates who are trained in this area.
"If you understand the unique opportunities and challenges of international accounting, you'll be able to help a company to grow and expand its overseas operations – which is an extremely appealing aptitude for employers."
The blog post goes on to look at the key skills which students develop while studying for a BSc in International Accounting. Students are provided with a thorough education in foreign exchange markets, economic and political issues and governance. The course also has a strong emphasis on ethics, and introduces students to a broad range of accounting techniques.
The full blog post, including a more detailed look at the importance of international accounting standards, can be viewed here. The internationally recognised courses and qualifications offered by the school, including its International Accounting degree, can be viewed at http://www.londonschoolofmarketing.com/our-courses.
London School of Marketing delivers accredited marketing and business qualifications, and offers professional courses from recognised professional bodies such as CIM, EduQual and academic qualifications on Marketing, Business, Finance, Law and HRM from Anglia Ruskin University and The University of Northampton. Based in Central London, they are a QAA approved institution. The school also has offices in Sri Lanka, a network of Local Access Points (LAPs), and online programmes of learning.