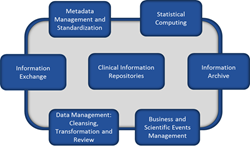 Princeton, NJ (PRWEB) June 28, 2016
EDETEK, Inc., a technology and services company focused on delivering innovative solutions for clinical development reported today that it is launching a new cloud-architected platform of clinical applications CONFORM™ and a globally accessible multi-tenant cloud C3 (compliant clinical cloud). The company will be demonstrating its capabilities at the DIA 2016 52nd Annual Meeting in Philadelphia, PA, June 27-29, 2016.
"Today's typical clinical applications are lacking in three important areas. First, reliance on static flow – software products are built to incorporate known processes, information standards and existing regulations. As clinical trials become more complex and geographically distributed, and business processes incorporate a constantly changing mix of insourced and outsourced models conventional clinical systems become ineffective and may require extensive customizations. Second, the systems are not equipped to monitor and react to variety of business and scientific events that occur in the conduct of a trial that incorporates numerous contributors and their systems. Third, most of the systems are simply not scalable to support ever increasing patient populations and massive amounts of information in the new health data sources", states Peter Smilansky, Senior Vice President of Product Strategy of EDETEK. "We had decided to build a new version of our clinical platform where most of resident applications are metadata driven and use fully configurable human and systems workflows thus conforming dynamically to evolving standards and changing processes. We designed a clinical event hub to collect, integrate, monitor and act on events from our own and external systems. And we re-engineered existing and built new applications to run elastically and securely in our new multitenant cloud C3."
EDETEK continues to market and support its popular Panther CTMP™ platform used by more than 30 pharmaceutical companies and CROs for data acquisition, standardization, analysis and visualization.
Jian Chen, EDETEK's President and Founder, "We are excited to offer CONFORM™ - industry's first true multitenant cloud clinical application platform. CONFORM Informatics bundle for metadata management, standardization and transformation is available immediately. CONFORM Operations bundle that includes CTMS, eTMF and other systems is expected in Q4 2016 and CONFORM Information Repository will be released in the first half of 2017."
EDETEK, Inc., a CDISC Registered Solutions Provider and AWS Life Sciences Partner, is an innovative technology provider to pharmaceutical, biotechnology, and device companies.
For more information contact:
Jian Chen, President, Peter Smilansky, SVP Products, Dave Alderson, VP Business Development at 609-720-0888