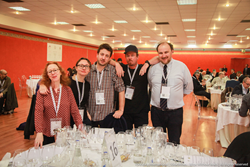 There are a growing number of producers of this wine, the market is there now, especially among the Millennial generation
New York, USA (PRWEB) June 27, 2016
When Vinitaly, the world's largest wine fair, decided to hold its first ever natural wine competition, they naturally went to the expert. Alice Feiring, author, journalist, wine consultant and renowned authority on natural wine, will present a sampling of wines from that competition to trade and press in New York on Tuesday.
While "natural" carries no legal definition or certification in the wine world, the term is given to wines grown organically and made with minimal technological or chemical intervention. And natural wines, long beloved by a niche following of the wine underworld, are now taking the New York wine world by storm. "The fact that this particular wine award was given at such a venerable institution like Vinitaly is a message to all of the other wine festivals around the world, that this movement of natural wine is gaining strength, that it is now a force that's undeniable," says Feiring.
"There are a growing number of producers of this wine, the market is there now, especially among the Millennial generation," explains Managing Director of Vinitaly International Stevie Kim. "It was time we embraced it because we need to create additional ways to engage that market. It was time to create a completely different competition, led by Alice Feiring because she is such an internationally recognized expert on natural wine."
The competition, entitled Wine Without Walls and held April 1 in Verona, broke with convention not only for the wines involved, but for the judging process; instead of receiving points, the wines were evaluated on whether they expressed eight characteristics: liveliness, evolution in the glass, balance, drinkability, emotional impact, savoriness, transparency, and sense of place. Of the 76 wines submitted, the 17 wines that expressed six or more of those qualities were selected for recognition.
On Tuesday, June 28th from 12:30-2pm at New York's Astor Center, Alice Feiring will present a sampling of those selected wines for a lunchtime gathering of trade and press, and will be discussing the new competition, the criteria, and the significance of recognizing these wines on a platform as mainstream as Vinitaly for the first time.
"I wanted to create a totally new way of awarding wines for their virtue; one that went back to the reason we all drink," Feiring explains. "It's all subjective, but there are qualifiers that make us respond to this kind of wine with enthusiasm. All of the wines I'll be showing on Tuesday, Cascina Tavijn, Ruche' di Castagnole Monferrato DOCG 2014, Ca de Noci, Le Rose 2014 & Nottediluna 2013, as well as Radikon's Slatnick 2013, are particularly exquisite representations of two of the most important of the eight criteria needed to snag an award: drinkability and emotional impact."
While the competition itself drew wines from all over the globe, including Italy, Slovenia, Georgia, France and Chile, these four wines all hail from the Italian peninsula, in keeping with the theme of the day, which is a tasting of the Italian wines from Vinitaly's main international wine competition, 5 Star Wine Awards.
This will be the first presentation of the Wine Without Walls award on US soil, though all four of the wines are currently available on the US market. A complete list of selected wines from April's competition can be found at: http://www.vinitaly.com/globalassets/pdf/concorsi-enologici/free-wine/standings-wine-without-walls.pdf.
About:
Veronafiere is the leading organizer of trade shows in Italy including Vinitaly (http://www.vinitaly.com), the largest wine and spirits fair in the world. During its 50th edition Vinitaly counted more than 4,100 exhibitors on a 100,000+ square meter area and 130,000 visitors from 140 different countries. The next edition of the fair will take place on 9 - 12 April 2017. The premier event to Vinitaly, OperaWine (http://www.vinitalyinternational.com) "Finest Italian Wines: 100 Great Producers," will unite international wine professionals on April 8th in the heart of Verona, offering them the unique opportunity to discover and taste the wines of the 100 Best Italian Producers, as selected by Wine Spectator. Since 1998 Vinitaly International travels to several countries such as Russia, China, USA and Hong Kong thanks to its strategic arm abroad, Vinitaly International. In February 2014 Vinitaly International launched an educational project, the Vinitaly International Academy (VIA) with the aim of divulging and broadcasting the excellence and diversity of Italian wine around the globe. VIA this year launched the second edition of its Certification Course and today counts 54 Italian Wine Ambassadors and 3 Italian Wine Experts.
# # #