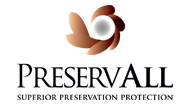 Branchburg, NJ (PRWEB) June 27, 2016
PreservAll (http://www.preservall.com) is expanding into new markets and regions at a rapid pace, thanks to the innovative use of preservation bags treated with Intercept Technology™.
"We have expanded our sales into Missouri, Oklahoma, New Jersey, and Texas," says PreservAll company partner Chris Della Valle. These areas are primarily interested in our Corrosion Intercept gun sleeves, corrosion protection bags for standard and long pistols and corrosion protective bags for rifles and shotguns."
The use of Intercept Technology™ in storage bags and pouches for firearms means the item is always ready for a hunting trip without any threat of corrosion or water damage. These preservation bags are also the ideal way to ensure great-grandpa's musket or granddad's prized historic rifle remain in pristine condition for future generations to enjoy. The progressive Intercept treatment is also environmentally friendly, very affordable and completely non-toxic.
PreservAll has storage bags for a wide range of items beyond firearms, such as wedding dresses, important documents and digital data.
To learn more about PreservAll, visit preservall.com/about and preservall.com/Shop-Now.
About PreservAll
We offer preservation and corrosion prevention packaging and storage products for garments, firearms, documents, quilts/tapestries, hunting and camping equipment, coins, antiques and collectables. Our products use Intercept Technology™, an environmentally friendly technology that does not coat items or leave detectable deposits on items it protects. Intercept is not a VCI (volatile corrosion inhibitor). Intercept is a reactive technology unlike other products that work passively. Intercept absorbs and neutralizes corrosive gasses that lead to corrosion and breakdown of materials such as fabrics, ferrous and non-ferrous metals, stamps, comic books, documents and anything else affected by atmospheric degradation.
Contact Details:
Mr. Chris Della Valle
600 Kenrick Dr., Suite C-40
Houston, TX 77060
Ph: (713) 822-9040
Fax: 908-526-0007
Source: PreservAll
###