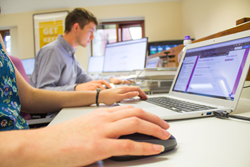 (PRWEB UK) 28 June 2016
After a sustained period of success helping their clients achieve growth through inbound marketing techniques, Digital 22 has been awarded with Platinum agency partner status by HubSpot, the leading marketing software company. Digital 22 is the first and only agency to reach this partner level in the North of England and has been working with clients from across the UK, Europe and the USA. Their successful practice has put them amongst an elite group of marketing agencies across Europe.
"The inbound marketing movement is still in the early stages in the UK and I am delighted Digital 22 has become one of the leading agencies in the field." Said Rikki Lear, Director at Digital 22. "This is signified by the significant achievement of becoming a Platinum Hubspot Partner, an honour which only a handful of agencies in Europe have acquired."
He went on, "Due to being a leading agency in this field this we are attracting clients from across the UK, Europe and USA allowing us to grow close to 100% year on year, for the fourth year in a row."
He concluded, "Being the first and only Platinum Hubspot Partner in the North of England is important to us as we aim to continue employ more people in the region whilst also helping Northern based companies, with large growth plans, to achieve their marketing goals."
HubSpot is an inbound marketing software platform that helps companies attract visitors, convert leads, and close customers. Being a Platinum Hubspot Partner means Digital 22 have not only have experience and mastery of HubSpot but they are qualified and can prove their results in the inbound marketing methodology.
Upon awarding the agency the Platinum status, Stephen Higgins, Channel Consultant at HubSpot, said, "'Digital 22's rise to Platinum has been a huge success for UK agencies and for the Hubspot Partner Program."
He further complimented them by saying, "They have been a shining example of how exceptional marketing & servicing coupled with a solid sales process is a winning formula. "
To find out more about Digital 22 and their inbound marketing techniques, visit https://www.digital22.com/