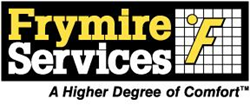 Hiring a contractor without doing your homework first can be a costly mistake.
Dallas, TX (PRWEB) June 27, 2016
While the spring season was relatively mild in the Dallas-Fort Worth Metroplex, the dog days of summer are finally here. For HVAC contractors, that means the busy A/C repair season has switched into high gear.
According to Tom Frymire, VP of Operations at Frymire Services, "At Frymire, we see air conditioner repair calls steadily increase beginning in April. However, we historically see call volumes spike during the first week of consecutive 90-degree days, which normally occurs in mid-May or early June in North Texas."
Dallas-Fort Worth HVAC contractors like Frymire can expect steady call volume for A/C repairs in the coming months.
"When temperatures soar, so does our call volume, which surges 3 to 4 times higher as compared to non-summer months. Call volume peaks early and remains steady until at least Labor Day," Frymire says.
The historically lower temperatures of this spring and past two summers have also lulled many homeowners into postponing repairs, which pushes demand for HVAC service even higher. According to Frymire, "With the onset of stifling temperatures, deferring HVAC repair and replacement is no longer feasible for many North Texans."
This increase in demand for HVAC service and repair can leave overheated homeowners and businesses scrambling to find a contractor fast. Unfortunately, hiring a contractor without doing your homework first can be a costly mistake. To avoid air conditioning repair woes, Frymire offers two pieces of advice:
1. Schedule regular, preventive HVAC maintenance visits with a reputable HVAC contractor – BEFORE your A/C system goes kaput.
A trustworthy HVAC technician can make sure your air conditioner is running in tip-top condition and keep you informed regarding your HVAC system's health and estimated lifespan. If your air conditioner is working overtime and needing repairs more frequently, you're probably better off replacing the system before it dies on a triple digit day.
In his new article, 5 Key Questions to Ponder When Deciding to Repair or Replace Your A/C System, Frymire offers helpful tips for homeowners who are weighing their options.
According to Frymire, "After 'My air conditioning isn't working,' the number one customer complaint we hear is: 'My air conditioner isn't cooling as well as it used to.' Consider the age of your A/C system and past repair costs, if any. It may not be worthwhile to repair it again if the system is more than 8 years old."
2. Don't fall victim to HVAC scams.
When demand for A/C repairs rises, so does the number of disreputable HVAC contractors offering deep discounts for shoddy repairs.
Hiring an experienced technician is critical since an HVAC contractor needs to have a competent understanding of how things like electrical wiring, refrigerant, combustion systems and airflow work to ensure comfort throughout a home.
"Not only is comfort important, but safety is critical. For example, knowing the proper operation of a furnace can be the key to preventing death or injury from events like carbon monoxide poisoning, which can occur if an HVAC system is malfunctioning or improperly installed. A professional and licensed HVAC contractor will stand behind his work and offer a guarantee of workmanship, giving his customers peace of mind," Frymire says.
Residents and business owners who have questions about air conditioning, heating or plumbing service and repair in Dallas or Fort Worth can contact Frymire Services at 1-877-FRYMIRE (379-6473) or schedule service online at http://www.frymire.com.
About Frymire Services
Since 1950, Frymire Services has provided comprehensive residential and commercial maintenance, repair and replacement services from air conditioning, heating, controls and indoor air quality to plumbing and refrigeration in the Dallas and Fort Worth Metroplex.