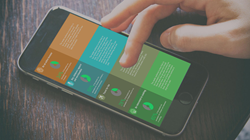 "It's a Unique Blend of Automated Software, Data Science and Marketing Consulting as a Service" - Adrien Laffitte-Smith
(PRWEB) July 01, 2016
As the company approaches its third quarter for 2016, many exciting updates are proceeding. Analyze Corporation continues to stay at the forefront of updated big data analytics, data science and marketing trends. The corporation's impact software, Clientell, is the primary recipient of these innovations. The product supplies real time marketing insight, buying behavior, personality traits and socio-metric indicators of consumers. Clientell has over 350 unique variables that all play a crucial part to uncovering the valuable marketing insights necessary for businesses to implement the right messaging, strategic data-driven campaigns, ultimately increasing response and conversion rates of businesses target demographic. Within moments, pull a look-a-like impact audience targeting data-driven consumers.
"It's a unique blend of industry leading software, data science and digital marketing consulting as a service. A true end-to-end marketing solution," quotes Adrien Laffitte-Smith, the Vice President of Sales and Marketing at Analyze Corp.
Clientell also includes a new feature. Analyze has updating Clientell to process automated automotive data utilizing Year, Make, Model, VIN#, Address, State, City, and Zip in real-time.
Analyze now offers Clientell as a white label solution for marketing and advertising agencies. "Using Automated Data-Marketing Science, Analyze improves upon current data-marketing trends by allowing businesses to engage, capture, nurture, and convert potential clients through diverse campaigns. We are not limited to B2C only, we work with business from all walks of life and have tremendous success with B2B focused companies and leverage our Donor Impact solutions for our non profit organizations as well. Clientell executes real time analytics, marketing insight that leverages our customers conversion data. Our team of Data Scientists and Marketing Consultants work closely with all of our customers. We like to think of our team as members of our customers staff, with vested interest in their success" says Adrien. Clientell drives the right message and content via direct mail, email, social media, landing pages, etc. Including but not limited to; website tracking, lead scoring, social listening, and marketing automation. Clientell, a one stop shop that organizes all the key cornerstones of marketing with the strongest emphasis on the most critical element, the right foundation. Clientell, leveraging impact data-driven decisions that expedites business goals, objectives and double digit profitable growth.
With all the data at your fingertips, are you making the right marketing decisions?