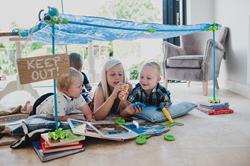 "PL-UG kits encourage active, imaginative, collaborative play…" says PlaSmart CEO Tim Kimber. "Because the kits are equally fun outdoors, as well as inside on cold or rainy days, they provide an appealing alternative to screen time."
Ottawa, ON, Canada (PRWEB) June 29, 2016
PL-UG Build Your Own Fort kits make every fort a different adventure. PL-UG discs, clamps, rods, suction cups, hooks, pegs, and grips are constructed to connect together in so many ways that it is easy to dream up a new fort or improve upon a previous fort. Kids can attach PL-UGs to tables, chairs, walls, glass windows and patio doors, even trees. Once a basic structure is complete, simply secure a sheet over the top and post the Keep Out sign at the entrance. PL-UGs are recommended for children age 3-plus with a little help from parents or siblings, and 5-plus for just about everyone else.
"PL-UG kits encourage active, imaginative, collaborative play and are a good fit for PlaSmart's smart, simple, and fun philosophy", says PlaSmart CEO Tim Kimber. "Because the kits are equally fun outdoors, as well as inside on cold or rainy days, they provide an appealing alternative to screen time."
PL-UG Build Your Own Fort kits come in three versions: the ULTIMATE kit with sheet, rods, discs, and ground pegs for outdoor use; the mid-range CANOPY kit that includes a PL-UG sheet; and the introductory or top-up FORT kit containing the key PL-UGs necessary to start building forts.
PL-UG Build Your Own Fort History
PL-UG is the creation of two UK based men, both named Ben. Ben Bird and Ben Callicott met after university while they were working as toy designers for a firm specializing in educational and play equipment for schools and playgrounds. The two Bens each have wonderful childhood memories of building forts – or dens as they are referred to in the UK. PL-UG is the result of these shared memories, along with solid expertise acquired while inventing, manufacturing, testing, and launching educational toys and equipment for children.
Ben B. and Ben C. designed Build Your Own Fort kits to engage children and to encourage them to explore and use objects in the world around them. Unlike pop-up play tents, kids using PL-UG components are inspired to use their imaginations to create forts, retreats, and super hero hideouts, all while making their own special memories. Launched in the UK in 2014, PL-UG Build Your Own Fort kits are available in the UK, throughout Europe, Australia, and in North America.
About PlaSmart Inc.
PlaSmart Inc. is a Canadian-based, global toy distributor that selects products that are smart, simple, and fun. It seeks out interesting, one-of-a-kind toys that meet its 'smart and simple' philosophy and avoids toys that are difficult to understand or operate. PlaSmart's products include multiple award-winning toys and games, including the ever-popular Original PlasmaCar®, a mechanical marvel powered by the cleanest and most inexhaustible energy source, kid power; PlasmaBike®, a balance bike like no other; and Kick Flipper . Like a skateboard without wheels, Kick Flipper can be used indoors or out, on carpet, grass, or sand. PlaSmart's products are available on five continents and in more than sixty countries. For more information visit PlaSmart's website.