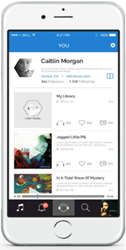 "ethr Music is a disruptive platform where all users' interests align..."
Venice, CA (PRWEB) June 28, 2016
Collaborative listening service ethr Music launches, putting music broadcasting in the hands of anyone with real-time social engagement—powered by leading music technology company VL Group.
Becoming the Final Pillar of Social Media
ethr Music is allowing users to listen to the
same music friends, influencers, or celebrities are listening to, in real time. The collaborative listening service fills a gap left by current social media platforms—live music engagement through an in-app experience with access to over 16 million tracks. Not only can users tune in to fellow users' stations, comment, follow and favorite, users can tune into the stations of prominent figures. For example, if an athlete is warming up, users can listen to his or her pregame playlist with them in real time. If one missed the live event, they can access that playlist in ethr's live feed.
"ethr Music is a disruptive platform where all users' interests align–broadcasters can build up a following based on their music tastes and users can listen in," said Alex Schaffhausen, ethr Music founder and CEO. "The follower/following allows our users to crawl down a musical rabbit hole to discover rare music. Additionally, having numerous channels helps our platform break new artists."
ethr Music provides new sonic branding power to all of its users. The instantaneous connection between broadcaster and listener establishes direct engagement in ways other platforms do not allow for. Users can feel a long-term emotional bond with influencers as they experience the music together. In addition to the live component of ethr Music, users can consume content in the form of playlists curated by their favorite people and brands.
Helping Emerging Artists Reach New Audiences
ethr Music helps aspiring artists gain exposure by allowing other users to listen to original content. Once a given track begins garnering broad attention, influencers can take note and play the song on their channel to further expand the artist's reach. A massive audience awaits to listen to the original track created by an up-and-coming artist that will soon be a mainstream hit. ethr spotlights. Influencers amplify. Artists win.
Powered by Secure Streaming Technology
ethr Music is backed by the secure streaming technology of VL Group's patented Rhymba™ music API. The security and scalability of Rhymba™ is currently powering music experiences for a number of renowned, innovative clients.
"Our collaboration with ethr Music is a prime example of the type of innovation that the music industry needs," said J. Miguez VL Group CEO. "By leveraging our API and label support ethr was able to focus its time and resources on building a next generation music user experience that will delight its users."
The API is part of VL Group's suite of next-generation solutions which allows clients to create music experiences that are secure, scalable and beneficial to artists, labels, brands and platforms alike. This, combined with VL Group's professional services and its more than 20 million pre-cleared songs, proves a unique combination of technology and talent that amplifies reach, engages target audiences and produces results.
--------
About ethr Music
ethr Music was born after founder Alex Schaffhausen built a playlist for his friends on a ski trip. There was no way for the group to listen to the playlist together as they skied, and they changed that. ethr Music is available to download for iOS on the iTunes store. Keep in tune with ethr Music by following @ethrMusic on Twitter and on Facebook.
About VL Group
For over a decade, VL Group has delivered unique music experiences with expertise, transparency and passion. Today, the leading music technology company continues to empower brands, artists, platforms and labels with solutions that are simple, scalable and seamless. Combined with a library of over 20 million pre-cleared songs (and growing), VL Group's passionate team of music industry experts create flexible, scalable and customizable solutions. Simply Press Play. For more information on VL Group's products and services, visit VLGroup.com or @VLGroup on Twitter.