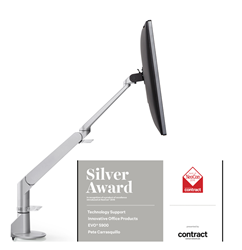 It has never been quicker or easier to install and adjust a dynamic monitor arm" says Carrasquillo.
Easton, PA (PRWEB) June 28, 2016
Innovative's newly re-designed EVO monitor arm won a 2016 Best of NeoCon silver award in the Technology Support category of the competition hosted by Contract Magazine.
"After putting so much thought, time, and effort into the project it's really very gratifying to have won a Best of NeoCon award for EVO. I don't think that it was a case of one stand-out feature making all the difference to the jury, but rather the sum of all of the changes and improvements we made to EVO that really appealed to them." - Peter Carrasquillo, Industrial Designer
The newly re-designed EVO monitor arm provides ergonomics and space saving in a sleek, articulating arm. EVO offers unique Better Balance® Technology to provide a true constant force across the arm's entire range of motion and floats the monitor weightlessly above the work surface where it can be effortlessly repositioned with one-touch adjustment. The increased tension adjustment at each joint ensures a smooth movement of the arm while allowing the monitor to rotate for portrait or landscape viewing. The EVO includes a sleek cable management system that routes cables beneath the monitor arm for a clutter free work environment and space saving solution.
A quick and easy mount installation performed above desk makes for a quick out of box set-up, a feature Carrasquillo and Mickey Lam, Product Engineer are particularly proud of. "I can tell you that we are proud of the ease of installation achieved with the new "top-down" clamp mount, and the ease and accuracy of the new counterbalancing mechanism. It has never been quicker or easier to install and adjust a dynamic monitor arm," says Carrasquillo.
EVO combines intuitive ease of use with gorgeous design that will complement any workspace. You can go a step further and match the aesthetics of your work space with white, silver or black finishes.
For more information on Best of NeoCon winner EVO, please visit http://www.lcdarms.com/EVO
About Best of NeoCon
The Best of NeoCon competition honors new products that are exhibited in the Merchandise Mart in Chicago during NeoCon in June.
Jury is made up of architects and designers, as well as corporate, government, and institutional facilities management executives who are responsible for selecting and buying furniture and furnishings for their specific organizations or clients. Entries are judged in person at the Merchandise Mart prior to the opening day of NeoCon.
The Best of NeoCon® is sponsored by Contract magazine, Merchandise Mart Properties, Inc., The International Interior Design Association (IIDA), The International Facility Management Association (IFMA), and The McMorrow Reports for Facilities Management.*
About Innovative Office Products
Innovative Office Products is an award winning market leader of monitor and tablet mounting solutions designed and manufactured to provide the best in flexibility, space savings and ergonomic benefit. Innovative leads the way in exceptional quality by combining product performance with award winning design. All products are tested to meet or exceed BIFMA standards and are backed by a manufacturer's warranty. Innovative strives to reduce environmental impact through standard design and manufacturing procedures. Innovative assembles products in the U.S.A. at their manufacturing facility in Easton, PA.
For more about Innovative Office Products, visit: http://www.lcdarms.com or follow us on Facebook,Twitter, LinkedIn, and our blog.
*Information obtained from "Best of NeoCon." Commercial Interior Design Magazine.
http://www.contractdesign.com/competitions/best-of-neocon.shtml