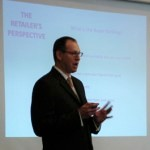 We found a real need for understanding the fundamentals of retail – even at retailers. We are proud to offer this understanding both with our classes and our retail primer - Jim Lewis, Founder & CEO of Enhanced Retail Solutions
New York, NY (PRWEB) June 28, 2016
Enhanced Retail Solutions (ERS), a leading provider of Software-as-a-Service (SaaS) retail analytic and demand planning solutions to suppliers, licensors and their retail trading partners, announces the next web-based Retail Merchant Class to show the audience how to improve business at retail and within the supply chain.
Enhanced Retail Solutions harnessed decades of retail management, software and consulting experience to provide proven methods to help companies increase and improve their supply chair and retail business. The audience in the past has included Retailers and their Suppliers in the sales, planning, and supply chain departments to Licensors and Agents in similar fields.
ERS will be discussing the following key topics:

Where to look for growth opportunities (statistics, retail assortment, demographics).
How to make money in today's retail environment.
Compelling merchandise statements (comparison shopping, branding, pricing, and why should a retailer buy from me)?
How to present new ideas to the retail merchants.
Retail Math & Measurement standards.
Why tracking the business at store level matters (lost sales, opportunities, profiling, and inventory productivity).
Understanding Sales Forecasting from a retail perspective.
Fundamentals of Inventory Replenishment, including VMI.
"We found a real need for understanding the fundamentals of retail – even at retailers," says Jim Lewis, Founder and CEO, Enhanced Retail Solutions. "We are proud to offer this understanding both with our classes and our retail primer."
The Retail Merchant Class will be held on Thursday, September 15th from 1 – 3 pm ET.
The cost will be $195 and will include a free hour of consulting (a $200.00 value) and our Retail Primer (a $14.99 value, whose cost will go up with next edition due out this summer).
Attendees may register at: http://www.enhancedretailsolutions.com/services/retail-merchant-class/
About Enhanced Retail Solutions LLC:
Enhanced Retail Solutions is a software and consulting firm specializing in retail analysis and demand planning for manufacturers, licensors and their retail partners. ERS' state of the art software tools and consulting deliver critical data quickly, easily and cost effectively, adding over one hundred million dollars to their clients' bottom line. ERS' broad customer base includes industry leaders in the electronics, consumer products, apparel, footwear, home textile, toy, home décor, home improvement, housewares, jewelry and food industries. Headquartered in New York City, Enhanced Retail Solutions has offices in the Dallas, TX and development in the US, Cork, Ireland and Delhi, India. For more information, visit http://www.EnhancedRetailSolutions.com.