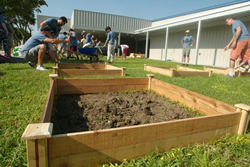 Houston, Texas (PRWEB) June 29, 2016
Connor Sports and the Green Sports Alliance(GSA) today provided the Yes Prep Northside charter high school in Houston with an eco-friendly makeover as the GSA 2016 Green Apple Day of Service project.
The GSA 2016 Summit Green Sports Green Apple Day of Service Project Presented by Connor Sports was completed by representatives of Connor Sports and GSA partners' HOK, U.S. Green Building Council (USGBC)-Texas and the Center for Green Schools at USGBC. Volunteers came together to spruce up the exterior of the school with external landscaping and raised bed plantings for the schools' Garden Club and provide an upgrade to the school's physical education storage and weight training facilities.
"At Connor Sports we know as Champions of Environment and as a leader in the global sports industry, that outdoor recreation and safe play for school-age children is extremely important to the growth and well-being of all students," said Jason Gasperich, Director of Sustainability for Connor Sports. "Our growing strategic partnership with the Green Sports Alliance and the hosting of the 2016 GSA Day of Service project Houston has provided an excellent platform and opportunity for our Connor Sports Cares community initiative program to truly give back to the Houston community in a tangible and sustainable manner that will live on after the Summit."
"Connor Sports is leading the sports industry in sustainable manufacturing practices and is partnering with the Green Sports Alliance to reduce the sports industry's environmental footprint," said Justin Zeulner, Chief Operating Officer, Green Sports Alliance "Connor Sports shares the Green Sports Alliance's mission to promote sustainability through sport, we proudly partnered with them on the Green Sports Green Apple Day of Service which brought the local community together for an eco-friendly makeover of the Yes Prep Northside school in Houston."
The annual Green Sports Alliance Summit June 28-30 in Houston is the world's largest and most influential gathering for the sports community to unite around sustainability. The event brings together more than 800 industry stakeholders to learn and share better practices and the latest innovations in greening operations, advancing the supply chain and engaging fans.
About Connor Sport Court International / http://www.connorsports.com
More athletic events are played on Connor Sport Court surfaces than on any other sports flooring in the world. Founded in 1872, Connor Sports floors have established themselves as the standard for professional and collegiate sports. Hardwood used in the courts is from a renewable resource, with the U.S. growing six times more hardwood than is harvested each year. Sport Court® is a registered trade mark of Connor Sport Court International. Since 1974, it has identified the original and authentic modular sport surface, continuously improved and patented to provide the highest levels of quality and performance. Connor Sport Court is proud to be the only sports surfacing company in the world that is independently audited and verified as "Zero Waste" and fully ISO 9001:2008 and ISO 14001 certified. Connor Sports is on Facebook at http://www.facebook.com/connorsports and on Twitter @Connor_Sports.
About the Green Sports Alliance / http://www.greensportsalliance.org
The Green Sports Alliance leverages the cultural and market influence of sports to promote healthy, sustainable communities where we live and play. We do so by inspiring sports leagues, teams, venues, their partners and millions of fans to embrace renewable energy, healthy food, recycling, water efficiency, species preservation, safer chemicals and other environmentally preferable practices. Alliance members represent nearly 300 sports teams and venues from 20 different sports leagues and 14 countries. Find the Green Sports Alliance on Twitter at @SportsAlliance and #GreenSports.
# # #