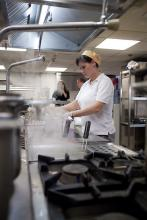 30 % of MSEs do not regularly carry out risk assessments, compared with only 3 % of enterprises with 250 or more employees.
(PRWEB UK) 28 June 2016
The results of the first phase of this project have been published and a seminar was held for stakeholders to discuss the findings. The high-level policy seminar, 'Micro and small enterprises (MSEs) in Europe: How can we make sure they are safe, healthy and productive places to work?', was organised by EU-OSHA in Brussels on 28 June, with representatives from the European Parliament and the European Commission, social partners and other key actors and academic experts. Discussions focused on how to ensure the health, safety and well-being of the millions of European citizens who work in MSEs, as well as the role of MSEs in the economy.
While MSEs account for almost 99 % of European enterprises and employ nearly half of the European workforce, contributing significantly to the European economy, a substantial proportion do not have in place adequate OSH arrangements; thus their employees' safety and health is often poorly protected.
Christa Sedlatschek, Director of EU-OSHA, highlighted: 'Our ESENER-2 study reveals that MSEs lag behind their larger counterparts in the arrangements for OSH with 30 % of micro enterprises not regularly carrying out risk assessments, compared with only 3 % of enterprises with 250 or more employees. And, of the MSEs that do not carry out risk assessments, over 80 % believe that "the risks and hazards are already known" or that "there are no major problems".'
Findings from the report show that according to Eurostat fatal accidents over the period 2008 to 2012 were most common in enterprises with fewer than 50 employees. Overall, the report reveals that there is considerable evidence in the literature that MSEs experience poor outcomes in terms of working conditions and work-related health effects.
So why do these enterprises find OSH management such a challenge? The report identifies several factors, including the low investment that MSEs are able to make in OSH infrastructure; the limited knowledge of their owner-managers of OSH and its regulatory requirements; their limited capacity to manage their affairs systematically; and their attitudes and priorities, given their limited resources and their concerns for the economic survival of their business, in which OSH has a low profile. The findings also reveal significant gaps in current knowledge on the effectiveness of strategies and interventions aimed at supporting OSH in MSEs. More results of this project will be published over the next two years, focusing on successful policies, strategies and practical solutions to improve OSH arrangements in MSEs.
A variety of tools and resources exist to help MSEs to overcome these barriers. The Online interactive Risk Assessment (OiRA) tool, developed by EU-OSHA, specifically focuses on MSEs, is free online and is easy to use, providing a step-by-step approach to risk assessment. In total, 99 tools are available (with more under development) for 16 countries or for the EU level, and they cover a wide variety of different sectors. What's more, the e-guides developed in tandem with the Healthy Workplaces Manage Stress and Healthy Workplaces for All Ages provide a lot of MSE-specific information and advice for OSH management.
Links:
Read the report on the findings of the first phase of the project
See the summary of the report for an overview
Find out more about micro and small enterprises on EU-OSHA's website
Notes to editors:
1. In 2014, EU-OSHA launched a 3-year project to help improve OSH outcomes for all MSEs across Europe. The project was commissioned to a group of researchers making up the 'SESAME' (Safe Small and Micro Enterprises) consortium, and it has three main objectives: (1) to provide support for evidence-based policy recommendations, (2) to identify good practices in terms of policies, strategies and practical solutions to improve OSH management and facilitate the development of new or existing practical tools and (3) to inform future research on the determinants of good OSH.
2. The European Agency for Safety and Health at Work (EU-OSHA) contributes to making Europe a safer, healthier and more productive place to work. The Agency researches, develops, and distributes reliable, balanced, and impartial safety and health information and organises pan-European awareness raising campaigns. Set up by the European Union in 1994 and based in Bilbao, Spain, the Agency brings together representatives from the European Commission, Member State governments, employers' and workers' organisations, as well as leading experts in each of the EU-28 Member States and beyond.
Now you can follow us on Facebook, Twitter, LinkedIn, YouTube or subscribe to our monthly newsletter OSHmail. You can also register for regular news and information from EU-OSHA via RSS feeds.