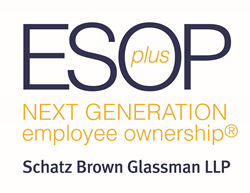 West Hartford, CT (PRWEB) June 28, 2016
ESOP Plus®: Schatz Brown Glassman LLP(http://www.esopplus.com), a boutique law firm concentrating in ESOPs and equity compensation, has won Corporate LiveWire's 2016 Merger & Acquisition award for "Excellence in ESOP Transaction Planning" for its ESOP Merger & Acquisition and ESOP financing practice generally.
Corporate LiveWire's Merger & Acquisition awards recognize the achievements of dealmakers, management teams, financiers and professional advisors who, over the past 12 months, have demonstrated excellence in their deal making and whose ceaseless dedication to innovation, customer care and the continued growth and improvement of their businesses has seen them forge ahead of their competitors and raise the bar for performance and results in their industry.
"We are immensely pleased to have been given this prestigious award for our work structuring and implementing ESOP stock purchase and sale transactions and advising ESOP-Owned Companies with their ongoing ESOP related issues," said Robert Schatz, co-founder of the firm. "ESOPs have consistently been an effective performance-based retirement program and the most tax efficient method for transferring equity in a qualifying privately owned business. We accept this award also on behalf of all those ESOP practitioners who work with us as a team to create and sustain ESOP owned companies. We hope that this recognition will serve as a catalyst for the shareholders of both large and small U.S. companies and their advisors to examine more critically the important role that ESOPs can play when devising their succession, business perpetuation and employee retirement plan strategies."
About us: ESOP Plus® Schatz Brown Glassman LLP is a boutique law firm focused on complex, multidisciplinary ESOP transactions, ESOP and equity compensation law and providing advanced Next Generation ESOP Plus® solutions and alternative succession options to its clients throughout the United States, including U.S. clients with an employee presence across U.S. borders. Schatz Brown Glassman LLP has offices in West Hartford, Connecticut, Rochester, New York and Columbus, Ohio.
Media Contact:
Robert F. Schatz, Partner
ESOP Plus® Schatz Brown Glassman LLP
(888) 840-6830
(860) 231-1052 (Fax)
RSchatz(at)esopplus.com
http://www.esopplus.com
# # #