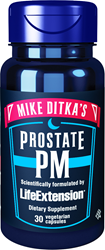 Mike Ditka, has introduced a product that will change the way men approach prostate health.
NEW YORK, NY (PRWEB) July 05, 2016
Life Extension, a leading global authority on nutrition, health and wellness, in partnership with one of professional football's greatest players and coaches, Mike Ditka, has introduced a product that will change the way men approach prostate health.
Mike Ditka's ProstatePM is a new men's health product that has been clinically developed to promote prostate health and restful sleep through a unique blend of dietary supplements. Specifically, ProstatePM features beta-sitosterol and pygeum bark extract to support a healthier prostate and reduce the frequency of nighttime urinary urges in men with aging prostates. It also contains lycopene, from the patented Tomat-O-Red® extract, which has been recognized as a powerful and natural organic compound to support many aspects of health, including protecting the prostate at the cellular level. Boron is a rare mineral vital to promoting healthier prostate tissue. Melatonin is a unique ingredient to prostate formulations that helps promote restful sleep.
"This product has been years in development and represents our ongoing effort to deliver on our brand promise of quality, purity, and potency," says Paul Gilner, CEO of Life Extension. "Mike Ditka's ProstatePM will help men win the important challenge of prostate health. In combination with a healthy lifestyle, regular screenings and doctor visits, this product will help men achieve and maintain the prostate health they desire."
Ditka is best known for being an American gridiron football player and head coach. In the 1960s and early '70s he proved himself one of professional football's most talented tight ends, using his gift for catching passes to revolutionize his position. After retiring as a player, Ditka embarked on a successful coaching career, the highlight of which came in 1986 when he led the Chicago Bears to a Super Bowl victory.
"Anyone who knows me knows that I demand excellence. When I learned about the science behind this incredible product, I was so excited that I not only started taking it, but I put my name on it," Mike Ditka states. "ProstatePM offers the best ingredients and is developed to the highest of standards, making it one of the most effective and useful prostate health products on the market."
For more information, visit http://www.DitkaProstatePM.com/.
# # #
About Life Extension
A trailblazer in the $32 billion U.S. dietary supplement industry, Life Extension's core mission is to extend the healthy human life span using an integrative approach and funding cutting-edge scientific research. Life Extension offers a full range of premium-quality vitamins, minerals, and hormones as well as unique, specially made formulas. The company's products are developed based on the latest scientific studies from peer-reviewed medical journals and are continually updated as new information occurs. To learn more about Life Extension, visit http://www.lifeextension.com/
These statements have not been evaluated by the Food and Drug Administration. This product is not intended to diagnose, treat, cure, or prevent any disease.