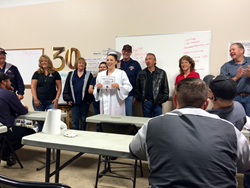 CD & Power, a leading electrical generator sales and maintenance company, was named a Bay Area Top Workplace for 2nd year in a row.
Martinez, CA (PRWEB) June 29, 2016
This week Bay Area News Group rolled out its 7th annual Top Workplace list, based upon a survey conducted by Workplace Dynamics. For Bay Area employers with fewer than 500 employees, CD & Power was once again honored to not just be on the list, but one of the highest scoring.
Over thirty years ago Chuck Uischner started California Diesel & Power (CD & Power) with just a mobile truck. Today, the company owns a 20,000 sq ft space in Martinez, a 5,000 sq ft space in Sacramento, and a shop in Modesto with a total of over 100 rental diesel generators, 44 employees, 35 trucks, and contracts with some of the largest brands in the diesel power industry. The company's success over the course of three decades is something the current management team attributes to the employees and a corporate culture that appreciates family and rewards value.
This local company takes great pride in how far it has come and its ability to adapt to the changing energy scene. CD & Power is the go-to company to prepare for power outages, shortages, or emergency situations. Responders are available 365 days a year, 24 hours a day to help in a power-outage crisis. Because they can ramp up quickly, offer top quality technical support, and service large energy contracts, they have become Northern California's largest independent generator sales and service company.
CD & Power has maintained the team spirit that Chuck initiated through weekly goal-setting meetings, and events which highlight the service and dedication of its employees. The meetings have become a large part of why the company has succeeded over its competitors. Each week team members are encouraged to bring their best ideas, talk about their concerns, and help motivate each other. Listening to employees and demonstrating care for them is one element that allowed CD & Power to be chosen from the more than 1,200 other companies who participated in the survey.
Employees are celebrated, promoted and evaluated based upon three key core values which include being Positive, Honest and Dedicated. Each month, co-workers nominate each other by sharing an example of how a person did something specific that demonstrated being Positive, Honest or Dedicated. The words make up the acronym" PHD" and with 25 nominations, employees have earned their PHD with the company. Over 60 percent of the staff has achieved this level at least twice over the last eight years.
"This process certainly makes for an exciting and motivating monthly staff meeting," says Jill Collaro, President. "Our people love to be caught doing things right, and we are intentional about doing that here. People who are appreciated will always bring more enthusiasm to their work!"
The company provides an extremely generous benefits package that includes life insurance for every employee, vacation and sick leave, and Kaiser Permanente health coverage for employees with children.
The company is excited to once more represent the top spot in the Workplace Dynamic's survey. Its top workplace program was meant to identify those companies and organizations which excel at workplace engagement and organizational health.
For more information about CD & Power, visit their website at: http://gotpower.com/