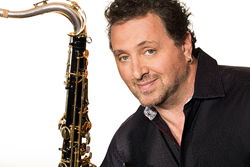 Richard Elliot received a Grammy Award nomination in 2014 for his saxophone work on Summer Horns.
NEW YORK (PRWEB) June 28, 2016
New York Wine Events has announced two (2) concerts "in the vines" that will bring world-class musical performers to the Long Island Wine Country. Steps away from the grape vines that produce award-winning wines, guests will be treated to the sounds of award-winning jazz while enjoying the hospitality, food and drink of Jamesport Vineyards.
For each of the 2 events the winery will convert into a concert venue with a stage, sound, lighting and auditorium style seating under a large tent. Food and drink will include flat bread pizzas from Jamesport's wood-burning oven and a portfolio of 14 different fine wines, all made on site.
Doors will open at 6 PM. Show time is 7 PM. Jamesport Vineyards is located at 1216 Main Road, Route 25 Jamesport, NY.

August 27th Grammy nominee Richard Elliot will take the stage. In 2014 Elliot received a Grammy Award nomination for his saxophone work on Summer Horns with Dave Koz. He's called a "smooth jazz" artist, but Elliot is equally at home in many styles. For five years in the 1980s, he was a big part of the classic R&B band Tower of Power. Elliot landed his first job while still a teenager with Natalie Cole and the Pointer Sisters. His high energy, funky and soulful style has made him a favorite of jazz fans worldwide for over 20 years.
July 30th Long Island native Matt Marshak will play his only Long Island summer show for "Jazz In The Vines". Marshak has toured the world in support of his music playing at prestigious events like the Dubai International Jazz Festival and the Mallorca Jazz Festival in Spain. He has been a familiar figure on the jazz circuit in the U.S. as well, performing at Jazz on the Vine in Wisconsin (opening for Fourplay), the Rehoboth Jazz Festival in Delaware and the River Raisin Jazz in Detroit. He hails from Miller Place, NY on the north shore of Long Island.
"It's exciting to bring world-class music to this spectacular winery setting at Jamesport Vineyards," says Sam Kimball founder of New York Wine Events. "When you combine Grammy award-nominated performers with the magic of Long Island Wine Country, I think you get something very special. Richard Elliot is an artist who sells out concerts in New York, Los Angeles, Chicago and other major markets. He's played with biggest names in the music business and puts on an amazing show. Matt Marshak, who hails from the north shore of Long Island and has gained prominence nationally, is a special performer, very popular with the East End audience."
"We are thrilled to host with New York Wine Events such a high level concert series here at the winery," added Ron Goerler, owner of Jamesport Vineyards. "Wineries in California have for years hosted world-class music artists for shows on site, and now we are doing the same here in Jamesport. Award-winning jazz and award- winning wines make a great combination"
SCHEDULE: Jazz In The Vines

July 30: Matt Marshak
August 27: Richard Elliot
Tickets are on sale now. Advance purchase is highly recommended. For complete details or to purchase tickets visit http://www.newyorkwineevents.com/jazz-in-the-vines/

Matt Marshak: $30 General Admission, $40 for Reserved Seat Upfront
Richard Elliot: $52 General Admission, $62 for Reserved Seat Upfront
About New York Wine Events
New York Wine Events is committed to bringing together New York Metropolitan wine, food and music lovers, whether at one of our 10 annual wine festivals, entertainment events or browsing our site for the best New York area food and drink events. Visit http://www.newyorkwineevents.com
About Jamesport Vineyards
Jamesport Vineyards is a father-son collaboration that began in 1986 making it one of the North Fork's oldest vineyards. A 165-year-old barn houses the winery and tasting room. The great lawn out back provides the perfect setting for people to gather and enjoy good wine, live music and light fare. In the vineyard, Ron Goerler Jr. continues to ensure the vineyard plantings produce the highest quality of fruit available in the region today. The Goerler Family has seen their 35-year commitment to winemaking result in world-class wines. Visit http://www.jamesportwines.com/
###