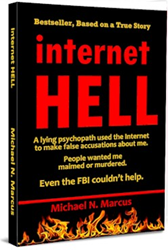 Well-meaning folks love to sign petitions for causes that sound good, without determining who is sponsoring the petition, why it exists or whom it can hurt.
Milford, CT (PRWEB) July 07, 2016
Published on the sixth anniversary of a vicious and extensive online attack, new book "Internet HELL" details the horrors that can be unleashed when an knowledgeable and skilled paranoid psychopath has unregulated freedom to publish lies online.
Early on a Saturday morning in the summer of 2010, Michael N. Marcus received an alarming call from an old friend. The friend said that she had received a Facebook message saying that Marcus was a convicted child rapist, published child pornography, burned his wife, was in prison for four years, drove drunk, used the Internet to find children to have sex with, was part of an international pedophile ring, was a threat to his neighbors and had even raped his dog.
As shocking as these false accusations were, things rapidly got worse.
The anonymous accuser sent similar emails to Marcus's friends, relatives and business associates, and members of the media. He wrote accusatory letters to newspapers, set up online petitions to have him put on a list of sex offenders, and established a libelous blog with a huge number of false accusations. He even published pictures of Marcus and his house—and directions to get there.
As illustrated on the pages of "Internet HELL," the attacker created multiple false identities to join in the attack, formed a phony organization—with real members—to add credibility, and tried to halt printing and sale of books Marcus wrote. People called for Marcus's imprisonment, castration and death.
From the very beginning there was only one obvious suspect but police and the FBI could not prove who the perpetrator was.
Marcus was able to get some lies removed from the web, but some are still there—and may remain there for as long as the Internet exists. Under the protective umbrella of the First Amendment, companies that host websites allow anyone to say anything about anyone... and some people will believe the most absurd accusations without any effort to verify them.
"Internet HELL" begins with a "nonfiction novel" backstory about the presumed attacker based on conversations with people who know him. Next is the completely truthful story of the attacks (with screen shots). The book concludes with the aftermath, recommendations and sources of aid for those who are similarly attacked, and an appropriate joke.
WHODUNNIT? The author says, "It's extremely likely that my attacker is a man who had a relationship with a relative of a relative. His attack was revenge. I reported him to government agencies to try to get help for his son who had an Autism Spectrum Disorder."
Michael N. Marcus is a journalist, editor, blogger, bestselling author of more than 40 books, award-winning advertising copywriter, publisher and mostly successful amateur attorney.
"Internet HELL" is published by Silver Sands Books. It quickly reached the "top ten" on two Amazon.com bestseller lists and is available as a $9.95 paperback and a $2.99 Kindle ebook. The just-published paperback is more up-to-date and has additional material not in the ebook.