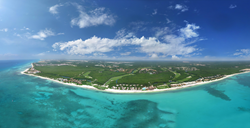 "We are thrilled to bring La Vuelta Mayakoba and the Jim McLean Golf School Summer Camp to one of Mother Nature's most picturesque beach-side playgrounds"
Riviera Maya, Mexico (PRWEB) June 28, 2016
Mayakoba, an award-winning luxury resort in the Riviera Maya, announces two new interactive sporting programs for athletes this year. Combining athletic adventure with Mayakoba's unique blend of lush nature and five-star experiences, the property will host La Vuelta Mayakoba 2016, a two-day bicycle race from Mayakoba to Tulum for cyclists of all levels, and the Jim McLean Golf School Summer Camp, which offers junior golfers an opportunity to improve their game on the El Camaleón golf course, home of the OHL Classic at Mayakoba, the only PGA TOUR event in Mexico. Participants in both events can stay at any of Mayakoba's celebrated hotels: Fairmont Mayakoba, Rosewood Mayakoba and Banyan Tree Mayakoba; a fourth hotel, Andaz Mayakoba will open in December.
"We are thrilled to bring La Vuelta Mayakoba and the Jim McLean Golf School Summer Camp to one of Mother Nature's most picturesque beach-side playgrounds," said Carl Emberson, director of operations and marketing. "Whether it's cycling near breathtaking Mayan ruins on the coast, or perfecting your golf swing with top-notch instruction, these events embody a physical, emotional, sensual and intellectual experience in a setting that is unlike any other."
La Vuelta Mayakoba
Taking place from October 14-16, cyclists will race over 109 miles through the Riviera Maya and enjoy scenic views of the Caribbean and iconic Mayan ruins such as Coba and Tulum.
Festivities kick off on October 14, with an opening ceremony at El Pueblito, Mayakoba's newest events venue, where competitors will enjoy a specially tailored dinner prepared by the chefs of Mayakoba.
Athletes will depart from Mayakoba's main entrance on October 15 and make their way to Coba, an ancient Mayan city, before ending their race for the day in Tulum, renowned for it's awe-inspiring ruins and beautiful beaches. Participants and guests will celebrate the end of the tournament's first day with an awards ceremony and celebration at the La Vuelta Mayakoba Sunset Party, where guest mixologists will shake up tantalizing cocktails and DJs will spin tunes. Cyclists will stay overnight at Papaya Playa Project, a Mexican Caribbean retreat in Tulum.
On Sunday October 16, the competitors will depart from Tulum Beach and race 43 miles to the finish line at Mayakoba. An award ceremony brunch will take place at Rosewood's La Palapa, which was recently named "The Best of the Best" in Travel & Leisure Mexico's Hotel Awards.
Registration opens July 1, 2016 and is limited to 300 cyclists. Email info(at)mayakoba(dot)com or visit http://www.livemayakoba.com see daily updates on the race.
Summer Golf Camp by the Jim McLean School
The Jim McClean Golf School, America's number one golf academy, will offer young golfers a series of intensive week-long summer programs at Mayakoba that will help junior players improve their long, short and mental game with an emphasis on golf course management. The program is ideal for young, dedicated golfers hoping to compete in national tournaments.
"Our philosophy is based on a single system that concentrates on the individual needs of each player. Young golfers participating in the Summer Camp will be prepared to successfully compete at a national level, " said Jim McLean Golf School Certified Instructor David Lopez.
The Jim McLean Summer Camp includes:

40 hours of training
Instructions on the field: technical and course management
24 hours of supervision during summer camp
Swing analysis with JC Video system
Ball flight analysis with Trackman technology
Student workbook with tips & drills
Rounds of golf at El Camaleón golf course
Physical training
6 nights accommodation at Fairmont Mayakoba
Breakfast, lunch and dinner
Gift bag
Extra activities include archery and kayaking through the water canals of Mayakoba
Round trip transfers from and to the airport
The Jim McLean Golf School Summer Camp is available to limited number of participants and is offered on July 10-16; July 17-23; and August 14-20. Programs and accomodation start at $1,750 per player.
For more information or reservations please contact your travel agent, call 01.984.206.4653, email mayakoba(at)jimmclean(dot)com or visit http://www.mayakobagolf.com.
About MAYAKOBA: Located in the Riviera Maya just 15 minutes from Playa del Carmen, Mayakoba is an eco-friendly resort development on the shores of the Caribbean in Mexico. Surrounded by natural beauty in its lagoons, pools and sugar sand beaches, Mayakoba is home to four luxury hotels – Fairmont Mayakoba, Rosewood Mayakoba, Banyan Tree Mayakoba and Andaz Mayakoba (opening December 2016). The resort also offers a spectacular 18-hole course designed by renowned architect and PGA legend Greg Norman. The signature course is home to the OHL Classic at Mayakoba – the only PGA TOUR event in Mexico. Six miles of freshwater lagoons and lead to a white sand beaches with turquoise waters on the Caribbean Sea and connect all of the hotels. Mayakoba is an eco-conscious development and has implemented significant practices to encourage sustainability. For more information, please visit http://www.mayakoba.com
MEDIA CONTACTS:
Sara Swiger
Castillo & Ruig Communications
310.664.8841
sswiger(at)discovercrc(dot)com