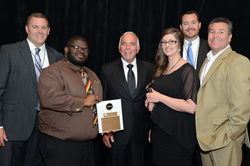 "Winning the ATSI award for a 6th consecutive year demonstrates the true commitment to excellence that AMBS has. I'm proud of the entire staff for our continued dedication to providing the highest level of service to our clients." -Cedric Roney
(PRWEB) June 29, 2016
Ambs Call Center a leading provider of live telephone answering service and call center services has been honored with the exclusive 2016 ATSI Award of Excellence. This marks the 6th consecutive year they have earned the award. The Award is presented annually by the Association of TeleServices International (ATSI). ATSI is the call center industry's Trade Association for call centers across North America and the United Kingdom.
The award of excellence is a secret shopper program for call centers. Independent ATSI judges evaluate telephone answering services and call centers over a six-month period. The scoring criteria includes courtesy, response time, accuracy and service to their clients. If the company scores 80% or better in all categories, they are presented with the coveted Award of Excellence. The program is now in its 26th year.
"The ATSI Award of Excellence is a bench marking program designed and proven to enhance customer service for the Call Center and Telephone Answering Service Industry across North America and throughout the world." says ATSI President, Jeff Zindel. "The ATSI award of Excellence Program ensures that consistent professional customer service levels are not only met but exceeded. Since the inception of this Awards Program, the level of customer service provided by member participants has improved significantly. I congratulate Ambs Call Center for their achievements."
About Ambs Call Center
Ambs Call Center was established in 1934 and has grown to become a provider of the latest telecommunications technologies to a wide range of industries throughout the nation. With locations in Jackson, MI Grand Rapids, MI, and Tampa, FL, Ambs Call Center helps businesses become more efficient and profitable with its 24-hour call center services.