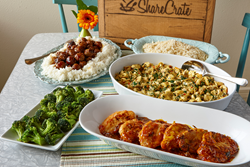 Our customers get all the credit for developing Dream Dinners ShareCrate
Snohomish, Washington (PRWEB) June 28, 2016
Dream Dinners, a national meal-assembly company known for bringing families together around the dinner table, announces the launch of Dream Dinners ShareCrate. This care package allows customers to ship easy, homemade and affordable frozen meals to friends and family members experiencing a life moment like the birth of a new baby or the death of a loved one.
Dream Dinners ShareCrate includes three easy-to-prepare meals. Each meal in the medium option ($89, plus shipping) feeds 2-3 people and meals in the large option ($139, plus shipping) feed 5-6 people. Both ShareCrate options include the following meals:

Creamy Chicken Florentine Tortellini
Sesame Glazed Meatballs served with Jasmine Rice
Chicken with Honey, Garlic, and Orange served with Oven Roasted Broccoli
All Dream Dinners ShareCrate meals are made from wholesome ingredients and can either be cooked from frozen or require very little preparation. Whether the recipient is healing from surgery or moving into a new home, this gift enables the act of loving with food, even when a homemade meal can't be delivered in person.
"Our customers get all the credit for developing the Dream Dinners ShareCrate," said Darin Leonard, CEO of Dream Dinners. "For years they have been using the dinners they assemble in our retail stores to bless someone experiencing one of life's emotional moments. The long-standing tradition of loving with food to any front porch in any town across America was the natural next step for our brand. Dream Dinners has already helped families serve more than 100 million meals and we are excited to bring even more families together around the dinner table with ShareCrate."
Dream Dinners ShareCrate is currently available for delivery to Alabama*, Arkansas*, Connecticut, Delaware, Georgia*, Illinois, Indiana, Iowa*, Kansas*, Kentucky, Maine*, Maryland, Massachusetts, Michigan, Minnesota, Mississippi*, Missouri, Nebraska*, New Jersey, New Hampshire, New York, North Carolina, North Dakota*, Ohio, Oklahoma*, Pennsylvania, Rhode Island, South Carolina*, South Dakota*, Tennessee, Vermont, Virginia, Washington D.C., West Virginia, and Wisconsin. Additional delivery areas will be added in the coming months. (*limited delivery area)
ShareCrate is built on Dream Dinners' experience of providing wholesome fresh-to-frozen meals in a retail setting and supports the company's ultimate mission of "growing great kids." In addition, for every ShareCrate sold, a meal will be donated to a child in need through non-profit organization Living the Dream.
For more information on Dream Dinners and ShareCrate, visit http://www.dreamdinners.com and http://lovingwithfood.com. To see the impact of loving with food on one Dream Dinners customer, watch The Table, available here: https://www.youtube.com/watch?v=BNQSYeDcVKE
ABOUT DREAM DINNERS: Founded in 2002, Dream Dinners, Inc. helps busy moms get wholesome home-cooked meals on the dinner table. Guests choose from seasonal, rotating monthly menus and prepare the dinners in-store without the hassle of planning, shopping and chopping. Dream Dinners lays out the ingredients in an easy-to-follow format so guests can assemble a month's worth of meals in about an hour. A pioneer and leader of the meal assembly industry with 86 retail locations in 24 states, Dream Dinners is on a mission to grow great kids, and believes good things happen when families come together at the dinner table. Learn more at http://www.dreamdinners.com.