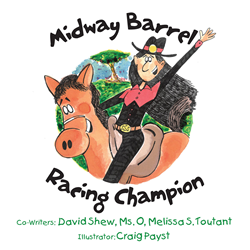 My father inspired me to follow my dreams and taught me to have the diligence to make them come true
Lexington, Ky. (PRWEB) June 29, 2016
Can society raise the next generation to know that hard work and dedication enable each individual to achieve greatness? Former journalist, now children's author, David Shew believes every child should be encouraged to chase his or her dreams to build a better future.
Shew's new children's book, Midway Barrel Racing Champion, aims to instill the importance of hard work, big goals, family, and also the lifelong joy of reading.
"My father inspired me to follow my dreams and taught me to have the diligence to make them come true," Shew said. "My hope is to shine a light on the importance of motivating children and educating them on the devotion it will take to accomplish their goals."
Midway Barrel Racing Champion is the second book in this series, co-written by Shew, his sister and his niece. Both he and his sister always fantasized about writing a book, so he decided they could accomplish that feat together. In their first book, Midway Dreams, his sister wrote the even chapters, and Shew wrote the odd to give the book more diversity. For their second book, Shew's niece joined the team, making the Midway series a family business.
"Family is one of the most important pieces to achieving success," Shew said. "They provide you with the infinite love and support needed to overcome the most strenuous obstacles.
Shew and his family continue to develop Midway's adventures. They hope that together they can inspire children everywhere to spend the rest of their lives reading and pursuing their passions.
For more information, visit http://www.midwaydreams.com.
Midway Barrel Racing Champion
By David Shew
ISBN: 978-1512728484
Available in softcover, e-book
Available on Amazon, Barnes & Noble and Balboa Press
About the author
David Shew grew up working for his father in the newspaper business. At the age of 22 his father appointed him editor of the Richmond Register. Later in life he changed paths and became a certified public accountant, a career he maintains today in Lexington, Kentucky, as he continues the creation of the Midway series.
# # #