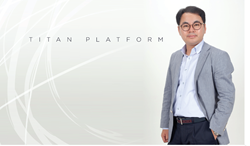 TiTANplatform's innovative DRM solutions are creating new opportunities for the development, delivery and monetization of digital content with superior safety and confidence—opening unprecedented access to Korea's enormous online media marketplace
Los Angeles, CA (PRWEB) June 27, 2016
Titan Studios International, the Los Angeles-based content development division of TiTANplatform Corporation, Seoul, Korea; announces today that Korean-based CEO Young Yoon will be the featured presenter at the Entertainment Merchants Association's annual Digital EMA Summer Salon in Los Angeles on June 28. The salon is open to Digital EMA members and their guests.
Digital EMA is the Entertainment Merchants Association's community of retailers, distributors, content creators, service & technology companies, and other stakeholders engaged in the commercial digital delivery of video and video game content to consumers through over-the-top Internet-based portals. Digital EMA annually produces the successful Digital Media Pipeline conference, and multiple networking salons in Los Angeles, Toronto, New York and the Bay Area for its member community and has become recognized as an industry leader in establishing best practices and standards related to retail and digital distribution of video-programming.
CEO Yoon on will present winvention, TiTANplatform's next generation digital open market media platform—featuring the patented TCI (Titan Platform Content Identifier) proprietary technology for superior digital rights management—to Digital EMA's Los Angeles membership of technology professionals engaged in the commercial digital delivery of video and video game content to consumers.
The winvention online media playground from TiTANplatorm—successfully launched in in Korea in March—is scheduled for release to U.S. consumers later this year. The flagship product features an online content platform, mobile app for Apple and Android, and a downloadable client-side player for windows. All formats are optimized for TCI exclusive content viewing—providing superior digital rights management protection through Titan's proprietary innovative technology.
"Digital EMA has been a champion for efficiency and standards in the digital entertainment industry and we are honored to have the opportunity to present the winvention platform to this pioneering organization. Our patented TCI innovations in digital rights management are creating new opportunities for the development, delivery and monetization of digital content with superior safety and confidence—opening unprecedented access to Korea's enormous online media marketplace" said, TiTANplatform CEO, Young Yoon.
Mark Fisher, President and CEO of EMA added, "We are very pleased to welcome CEO Yoon and his executive delegation from Seoul, Korea to share TiTANplatform's breakthrough technological innovations with our Digital EMA members. Korea is an important and growing marketplace for online video content, and we welcome the opportunity to learn more about possibilities there."
About TiTANplatform Corporation: TiTANplatform Corporation is a global technology business at the intersection of creativity and technology. We are the new global marketplace, where ideas and art meet commerce and communication, all supported by breakthrough patented copyright protection. For more information visit TiTANplatform.net
About Titan Studios International: Titan Studios International and Titan U.S. Corporation is a wholly owned subsidiary of TiTANplatform Corporation. With offices in Los Angeles and Seoul, Korea, Titan Studios International develops and produces original content for the international winvention platform. For more information visit TiTANstudios.com
About winvention: Dreams meet Reality… Inspired, innovative and intelligent, winvention is the new global content distribution platform for today's most creative influencers in online media. Utilizing proprietary technology for superior digital rights management with the means to monetize content and curate channels, winvention.com provides a super-sophisticated secure content playground, soon to be launched in the U.S. by Titan Platform Corporation, Seoul, Korea. For more information visit winvention.com
About Digital EMA: Digital EMA is the Entertainment Merchants Association's community of retailers, distributors, content creators, service & technology companies, and other stakeholders engaged in the commercial digital delivery of video and video game content to consumers through over-the-top Internet-based portals. For more information visit DigitalEMA.org