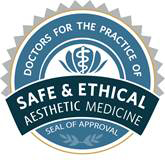 We are giving patients the tools and knowledge to make the best decisions concerning aesthetic medicine and their health.
Minneapolis-St. Paul- Eagan (PRWEB) June 28, 2016
Doctors for the Practice of Safe & Ethical Aesthetic Medicine, also known as DPSEAM, is a non-profit organization formed by leading cosmetic physicians. The organization helps patients find doctors who have taken a strict oath to always provide ethical and safe practices. DPSEAM was formed as a response to frustration felt by cosmetic doctors towards the endless stream of problems caused by unethical, unscrupulous and often ill-trained and unlicensed practitioners and facilities providing popular cosmetic procedures purely for profit without thought or care for the patients safety.
Recently, Board Certified Dermatologist Charles E. Crutchfield III MD appeared on Inside Cosmetic Surgery Today, a talk show hosted by Edmonton Cosmetic Dermatologist Dr Barry Lycka. Both doctors are passionate about providing high quality and ethical treatments in a safety conscious practice. Dr. Crutchfield's has become a leader in educating the public and potential patients about cosmetic surgery procedures and how to choose a cosmetic doctor.
During this in-depth interview, Dr. Crutchfield and Dr. Lycka spoke about Doctors for the Practice of Safe & Ethical Aesthetic Medicine (DPSEAM). Crutchfield highlighted some of the unethical and unsafe ways some cosmetic surgery facilities & practitioners provide their 'services' to unsuspecting patients. He shared personal stories and observations that have led him to form this organization to help patients feel confident in their search for aesthetic treatments.
The interview can be heard at this link: http://webtalkradio.net/internet-talk-radio/2016/06/06/inside-cosmetic-surgery-today-platelet-rich-plasma-new-treatments-finding-an-ethical-doctor-dr-lycka-dr-crutchfield
More information on Doctors for the Practice of Safe and Ethical Aesthetic Medicine can be found here: http://www.dpseam.org
About Charles E. Crutchfield III, MD:
Charles E. Crutchfield III, M.D. is a graduate of the Mayo Clinic Medical School and a Clinical Professor of Dermatology at the University of Minnesota Medical School. Dr. Crutchfield is also a member of Doctors for the Practice of Safe and Ethical Aesthetic Medicine. For more information, please visit the website http://www.SafeandEthicalDoctors.org