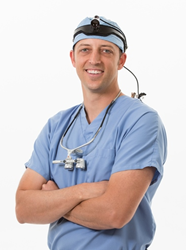 Fresno, CA (PRWEB) June 27, 2016
Dr. Scott Jett now welcomes new patients who live with missing teeth in Fresno, CA, to visit his practice office with or without referrals for implant supported dentures. These dentures, which are secured in place with titanium dental implants that are anchored in the jawbone, offer patients an unparalleled level of stability and functionality. People who visit Dr. Jett for these dentures can also expect a longer-lasting, healthier solution to tooth loss.
With implant supported dentures, Dr. Jett can give patients a relatively low-maintenance option for replacing their missing teeth. These dentures do not use adhesives or demand readjustments throughout the day, and many patients find them more comfortable and stable than unsecured dentures. Due to their functionality and convincing appearance, dentures that are secured with dental implants can help patients enjoy better self esteem. Beneficially, these dentures also can enable patients to avoid unhealthy nutritional deficiencies by eating a full range of foods.
Due to their innovative design, implant supported dentures offer a lasting solution for people who live with missing teeth in Fresno, CA. The titanium studs that hold the denture in place have a stimulating effect on the jawbone, which prevents the bone density loss that edentulous adults normally face. This loss, which is irreversible, can adversely affect a person's facial appearance and the fit of his or her existing dental prostheses. Dr. Jett frequently encourages patients to consider dental implant based dentures because they prevent these undesirable changes and can last years, provided that they are cared for properly.
People who would like additional information about this innovative alternative to traditional dentures are urged to visit Dr. Jett's website at http://www.jettperio.com. To schedule consultations and find out whether they are good candidates for this solution to missing teeth in Fresno, CA, patients may visit the website or directly call Dr. Jett's office at (559) 339-0826.
About the Doctor
Dr. Scott Jett is a periodontist offering personalized dental care for patients in Fresno, CA. Dr. Jett has been setting the highest standards of excellence in periodontics, gum surgery and dental implants for nearly ten years. With a practice emphasis on dental implants and periodontal surgery, he continues to be a leader in the Fresno area. He earned his undergraduate degree at Auburn University and his dental degree at the Medical College of Georgia School of Dentistry before completing specialized post-graduate training in periodontics, as well as earning a Master of Science degree in bone physiology, from the Medical College of Georgia. In addition, Dr. Jett is a published author and an active member in many leading dental organizations, including the American Dental Association, American Academy of Periodontics, International Congress of Oral Implantologists, Fresno Madera Dental Society and the 3i Implant Innovations STP Study Club. To learn more about Dr. Jett and the services he provides, please visit his website at http://www.jettperio.com or call (559) 339-0826.