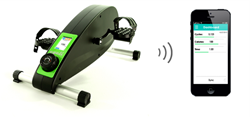 We are absolutely blown away by the support, and to raise over $135,000 and counting is a great validation that there's a strong demand for our product,
LOS ANGELES (PRWEB) June 27, 2016
Cycli, the first social under-desk cycle that connects to a smartphone via Bluetooth is approaching the finish line of its crowdfunding campaign with record setting numbers, surpassing its original goal of $35,000 by more than $100,000. People who want to get fit at work can still get earlybird pricing until July 1 on Kickstarter.
"We are absolutely blown away by the support, and to raise over $135,000 and counting is a great validation that there's a strong demand for our product," said Cycli co-creator Nizan Friedman. "Thanks to our supporters on Kickstarter we're now able to move into full production and start the manufacturing process."
With the unique ability to exercise in any location, Cycli can be used by people of all ages and fitness levels, while sitting at their office desk, or even at home on the couch. When using the Cycli app, users can track their exercise and compare results in friendly competition with family, friends and co-workers.
Cycli can be used in any location because it's portable. Simply place the lightweight stationary cycle in front of a chair, couch, or under a desk – set the resistance and start pedaling.
With a built-in touch screen interface, Cycli automatically measures the number of reps completed, calories burned, and time spent cycling. This data is synced to the user's smartphone via Bluetooth, allowing them to track their progress. The Cycli app also lets users create and join public or private exercise groups so they can see how they stack up against their co-workers, their friends, their city, or even the whole world.
With seven years in the medical industry developing innovative tools to help people recover from stroke and brain injuries, the creators of Cycli have taken that experience and transformed it into the first of its kind portable cycle with many features not found on any other portable cycle.
Cycli features include:

Bluetooth connection to your smartphone to track progress and race against others
Low profile, seamless design that can fit anywhere
46mm LCD touchscreen that displays important metrics like amount of time spent exercising, the number of reps performed, and calories burned
High quality magnetic resistance mechanism for smooth and quiet operation
Proprietary resistance sensor that provides the most accurate count of calories burned of any portable cycle
Rechargeable lithium battery that lasts for days on a single charge
25lb total weight with premium quality steel and aluminum frame
Studies indicate one-in-ten Americans will die prematurely from lack of exercise, that's roughly equivalent to the number of deaths from smoking cigarettes.
Another problem plaguing people all over the world is too much time spent sitting. Medical researchers say most of Americans spend upwards of 10 hours a day sitting down. Unlike an exercise bike, Cycli makes sitting healthier by allowing people to exercise while in a chair.
Cycli is available for pre-order on Kickstarter with special discounted early bird pricing until July 1, 2016 For more information, and to order please visit: https://www.kickstarter.com/projects/cycli/cycli-the-worlds-first-bluetooth-enabled-social-cy
About Flint Rehab – The Creators of Cycli
Cycli is the latest innovation by Flint Rehab, a medical device startup founded by UC Irvine PhDs Nizan Friedman and Dan Zondervan. Flint Rehab is probably best known for MusicGlove, a stroke recovery tool that lets users perform effective therapy while playing an engaging music-based video game. Cycli is a continuation of an expanded product line aimed at helping people get healthy in a much broader way.