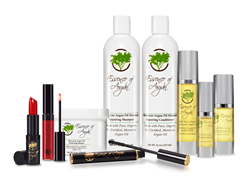 Plantation, FL (PRWEB) June 29, 2016
Essence Of Argan, the largest provider of Eco-Certified, Organic Argan Oil in the world, is excited to announce a full product launch with Walmart.com. Since both companies are the largest in the respective sectors, it was a natural fit and Essence Of Argan is currently developing more products for Walmart distribution.
A Spokesperson for Essence Of Argan said that "there was clearly a need for top quality, pure Argan Oil and strong argan-based products at Walmart.com and we are happy to fill it."
Essence Of Argan went on to say "we are flattered to be one of the initial 500 companies selected to launch with Walmart's market place – which is already recognized as the second largest in the world." And that "you often hear stories about the Sam Walton values being passed down through the entire Walmart staff – and it is all true. The entire Walmart team is pure class and this is a process we have thoroughly enjoyed. We look forward to reaching new customers and introducing them to The Purest Argan Oil In The World."
Walmart.com will be carrying Essence Of Argan 100% pure, eco certified, organic, Argan Oil, Argan Shampoo, Argan Conditioner, Argan Hair Masque, Argan Lipstick, Argan Lipgloss, Argan Mascara and edible, Culinary Argan Oil- which is quickly becoming the toast of foodies, everywhere. Through Walmart.com, consumers will have access to the lowest prices ever offered on all Essence Of Argan products.
To find out how you can carry Essence of Argan please contact retail(at)essenceofargan(dot)com .
About Essence Of Argan:
Essence Of Argan (http://www.Essenceofargan.com) is the largest consumer provider of eco-certified organic, Argan Oil on the planet. Universally recognized as the purest argan oil in the world and using 600% more argan oil on hair and cosmetic products than the next competitor, Essence Of Argan is currently sold in 22 countries and countless retail locations.
About Walmart.com
http://www.Walmart.com is the online distribution arm for the largest retailer on the planet. The launch of the Walmart.com marketplace has quickly grown to become the second largest marketplace in the world and continues to grow at an astonishing rate.