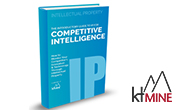 Chicago, Illinois (PRWEB) June 28, 2016
ktMINE, an innovation and intellectual property (IP) information services firm, releases a new eBook, "The Introductory Guide to IP For Competitive Intelligence: How to Monitor Your Competitor's Innovation and Technology Through Intellectual Property." The eBook is the introductory edition of a three-part series including intermediary and advanced content levels that will be released at a future date.
Within competitive intelligence, the importance of intellectual property continues to expand. Many professionals see the necessity to begin researching IP on their competitors and their major sectors while gaining a greater understanding of how IP data can be used for competitive intelligence. For many of these professionals, this is the first time they are looking into IP and it can be an overwhelming experience. This is why ktMINE developed "THE INTRODUCTORY GUIDE TO IP FOR COMPETITIVE INTELLIGENCE: How to Monitor Your Competitor's Innovation & Technology Through Intellectual Property." ktMINE's Director of Operations, John Wiora, created this guide with the help of Megan Rourke and Laura Sorg to assist in giving professionals an introduction to IP and the benefits for competitive intelligence purposes.
The eBook is divided into sections based on monitoring a competitor insight through an IP dataset, including monitoring technology developments through patents, brands through trademarks, partnerships through agreements, and deals through IP asset transactions. Each section defines what the dataset is, how to look at the data, how the data is structured, how to gain insights through monitoring the data, and a case study. A walk-through case study of Verizon is featured using ktMINE's IP Platform, which significantly reduces research time by connecting datasets to provide instant insights into a competitor's IP portfolio.
"The Intro Guide to IP for Competitive Intelligence" is available for download online here.
About ktMINE
ktMINE, headquartered in Chicago, IL, is an innovation and intangible assets information firm founded in 2008. Focused on mining, organizing and connecting the world's IP information, ktMINE provides businesses across the globe access to insights on industry players, technologies, and developments. For more information visit http://www.ktmine.com, or contact ktMINE at +1 (312) 253-0926.