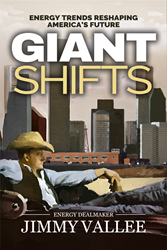 Mensa members are a fine audience to consider the tectonic shifts occurring in the oil & gas industry - Jimmy Vallee, Energy Commentator and Giant Shifts Author
San Diego, California (PRWEB) June 27, 2016
Author Jimmy Vallee, a leading American energy M&A lawyer and commentator, is scheduled to address Mensa's Annual Gathering 2016 in San Diego on July 1st, 2016.
Conference attendees, all fitting membership requirements of a top 2% IQ, will attend Vallee's presentation Giant Shifts: Energy Trends Reshaping America's Future based on his upcoming book of the same name wherein he looks at:

A Silicon Valley inspired technological revolution transforming the U.S. oil and gas industry at a lightning pace;
The redrawn global oil map destabilizing the supply and demand economics (and politics) that formerly propped up OPEC's cartel;
How smart venture money and oil majors are quietly making strategic energy investments; and
How changing demographics will soon leave a disastrous gap in the oil and gas industry workforce absent quick action.
Jimmy Vallee takes on the role of energy futurist as he looks at history, data, and new trends to distill several possible energy driven futures; and suggests which will happen depending on policy decisions our leaders make today.
"Mensa members are a fine audience to consider the tectonic shifts occurring in the oil & gas industry," said Jimmy Vallee. "By definition they're high-potential people with the analytical skills to help us drive an informed national conversation on critical energy policies as well as consider energy's new business landscape."
The Mensa national conference marks the start of Vallee's Giant Shifts lecture tour.
Media Contact: jay(at)platformstrategy.com 360.909.0527
About Mensa: Mensa is an international society with the membership qualification standardized testing results in the population's top 2%. The nonprofit's purpose is to conduct research in psychology and social science, identify and foster human intelligence for the benefit of humanity and serve as a means for stimulating intellectual and social contacts among its membership.
About Jimmy Vallee: Jimmy leads a high profile legal team for the Paul Hastings LLP law firm and is among the United States' most prolific energy dealmakers. With roots in the Texas oil fields he developed the energy street sense that he now brings as an advisor to global energy firms, tech companies, and strategic investors. Jimmy provides expert commentary for media outlets including USA Today, US News & World Report and industry publications. He authored Giant Shifts, set for 2016 release at Sutton Hart Press.