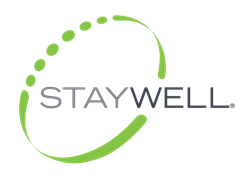 Yardley, Penn. (PRWEB) June 28, 2016
StayWell, a health engagement company, announced today that it is enhancing its Health Evaluators platform to include two new modules: weight management and stroke. Health Evaluators are short, web-based questionnaires that can be displayed on a hospital or clinic website to engage consumers and direct them to the care they need or opportunities to improve their health.
The easy-to-use Health Evaluators assessments provide valuable action steps for addressing individual health improvement opportunities and reporting tools for hospitals and health systems. Health Evaluators allow users to take a brief quiz that provides feedback on their risk level for the following conditions:

Coronary Artery Disease (CAD)
Pre-diabetes
Weight management
Osteoarthritis
Stroke
A prominent regional health care system recently tested the CAD Health Evaluator, hoping to generate leads for their CAD services. Presented on the health system's website, the Health Evaluators assessment drove the following results during the six-month test period:

34,866 views of the CAD Health Evaluator
20,645 participants worked in the assessment tool
18,137 people completed the assessment
2,203 people provided their contact information allowing for further marketing contact
The Health Evaluators solution also includes a wrap-around Marketing Toolkit. This toolkit will help hospital marketers jump-start their promotions with guidance on marketing strategy, including which media to utilize for promotions.
"Health Evaluators is an exciting opportunity to present a win-win alternative to both consumers and health care providers. Patients can easily learn about their own health risks and conditions, while hospital and health care marketers gain qualified leads from potential patients who now know they may need to seek professional a diagnosis and treatment," said Suzette Sison, Vice President of Marketing, StayWell. "These assessments allow marketers to access a new lead source, while helping improve the organization's online presence and reputation as a trusted health care partner."
To learn more about Health Evaluators from StayWell, visit staywell.com.
About StayWell
StayWell is a health engagement company that helps its clients engage and educate people to improve health and business results. StayWell brings decades of experience working across the health care industry to design solutions that address its clients' evolving needs. We fuse expertise in health engagement and the science of behavior change with an integrated portfolio of solutions and robust content assets to effectively engage people to make positive health care decisions. StayWell programs have received numerous top industry honors, including the C. Everett Koop National Health Award and the Web Health Award for health engagement programs. StayWell also has received URAC and NCQA accreditation for several of its programs. StayWell is headquartered in Yardley, Pennsylvania, and also has major locations in Salt Lake City, Utah, and St. Paul., Minn. To learn more, visit http://www.staywell.com.