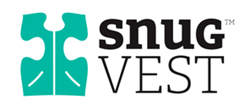 The future looks very bright for students who need that consistent feeling of comfort and security in order to focus, and succeed, in their education.
Vancouver, British Columbia (PRWEB) June 28, 2016
To assist students with special needs as they pursue a free and appropriate education and therapy, Wearable Therapeutics Inc. announces the issue of its first patent for its Snug Vest product. The company, which closed its first investment round in Spring 2015, and has secured large U.S. re-sellers and partnerships in the education industry, is poised for immense growth in light of this announcement.
The wearable Snug Vest garment inflates to simulate a "firm hug," activating the parasympathetic nervous system to drive down cortisol and adrenalin, indicators of stress that induce a calming and relaxing effect. Utilizing a method called Deep Pressure Therapy, the product helps children and adults who need the constant pressure to help them achieve daily tasks with ease. The pressure aids in anxiety relief and stress management for families dealing with autism, mental health and neurodevelopmental challenges.
The patent's claims encompass an inflatable air bladder that is constructed with a plurality of depressions throughout the air bladder, which create even pressure distribution, ergonomically conforming to the body through the configuration size and shape of the depressions. Snug Vest delivers pressure safely, and avoids placing pressure on the stomach or chest.
"Securing this patent marks a historic achievement for the Snug Vest brand, and students struggling with special needs in the U.S and Canada," said Lisa Fraser, founder and CEO of Wearable Therapeutics Inc. "The future looks very bright for students who need that consistent feeling of comfort and security in order to focus, and succeed, in their education."
Deep pressure devices that pre-exist Snug Vest were often large and cumbersome, not easily portable and disallowed users from any meaningful control over the amount of pressure being applied to their bodies. Snug Vest technology allows, for the first time, the ability to regulate evenly-distributed pressure, portability and unprecedented safety features.
Snug Vest was invested by Fraser, who was inspired by her work with students with autism to develop the technology while she studied Industrial Design as a student at Emily Carr University in 2010. She incorporated the company in 2011 in reaction to high demand for the product, and filed for the patent, entitled "Inflatable Wearable Deep Pressure Therapy Systems" (US 9320674).
Snug Vest is currently in use among thousands of families, and has received numerous awards and recognitions, including the Red Dot Product Design Award in 2014 and the Mom's Choice Award. The product was recently a finalist for the Medical Design Excellence Award.
About Snug Vest
Snug Vest is a therapeutic product for individuals with autism, sensory processing disorder or anxiety. Snug Vest inflates to provide adjustable and evenly distributed pressure to the torso for a comforting hug-like squeeze without pressure placed on the stomach or chest and is used by occupational therapists, teachers, adults and children. It is especially effective for individuals managing autism, high levels of stress, or sensory processing disorders. Snug Vest is based in Vancouver, British Columbia, Canada. For more information, visit http://www.snugvest.com.