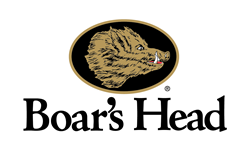 SARASOTA, Fla. (PRWEB) June 30, 2016
Boar's Head Brand®, one of the nation's leading providers of premium delicatessen foods, challenged student chefs of The Culinary Institute of America (CIA) in New York to a Boar's Head Bold® Culinary Challenge. As part of the competition, four student-chef teams were tasked with creating bold dishes inspired by the savory flavors of Boar's Head Bold® Ichiban Teriyaki™ Style Chicken Breast – the newest addition to the Boar's Head Bold® line.
Esteemed media and food experts gathered for a tasting luncheon at the Astor Center in New York City to sample the students' innovative dishes, which were judged based on taste, creative use of the product, presentation and production/technical skill. Following a tally of the scores, a panel of judges declared Matthew Johnson and Kurtis Flaherty the Grand Prize Winners of the competition for their Asian-inspired steamed buns dish, awarding them $10,000 in scholarship funds.
"All of our CIA finalists brought their best and boldest efforts to the table, and it has been incredible to see each student team's passion and creativity shine through in their original recipes and presentations," said Meredith Bombella of Boar's Head Brand. "We were blown away by the unique dishes that each team created in the spirit of the culinary competition and are thrilled to share the winning team's original recipe, so that all Boar's Head fans can experience the first-to-the-deli teriyaki flavor on their own time."
Carefully curated by the winning team, the recipe showcases the new, savory, sweet and masterfully crafted Boar's Head Bold Ichiban Teriyaki Style Chicken Breast, coated with a teriyaki style glaze featuring distinct notes of ginger, garlic and a hint of brown sugar. The winning recipe by Matthew Johnson and Kurtis Flaherty is included below:
Asian-Inspired Steamed Buns
Delectable soft steamed buns filled with pickled vegetables, caramelized pineapple and Boar's Head Bold® Ichiban Teriyaki™ Style Chicken Breast.
3 slices Boar's Head Bold® Ichiban Teriyaki™ Style Chicken Breast, sliced ¼ - ½" thick
8 small slices (1 per bun) Pineapple, seared
3 each Shallots, sliced
¼ cup All-purpose flour
Oil for frying as needed
8 Steamed buns (can be purchased at any major supermarket or sourced in an Asian supermarket)
8 tsp. (1 tsp. each) Teriyaki hoisin sauce
4 tsp. (½ tsp. each) Sriracha
1 tbsp. Pickled vegetables
2 each Scallions, thinly sliced
2 tbsp. Toasted sesame seeds
Directions
Steam the Boar's Head Bold® Ichiban Teriyaki™ Style Chicken Breast and buns to reheat them. Sear the pineapple in a dry skillet until slightly caramelized. Toss sliced shallots in all-purpose flour and fry in oil until crispy. Remove and reserve. With a knife, partially open one steam bun and brown it slightly in a skillet with oil. Remove the bun and spread on 1 tsp of the teriyaki hoisin sauce and ½ tsp of Sriracha. Delicately lay the pineapple and chicken slices in the bun. Fill the rest of the bun with the pickled vegetables and garnish with shallots, scallions and toasted sesame seeds.
Boar's Head Bold® Ichiban Teriyaki™ Style Chicken Breast is the newest product in the Boar's Head Bold® line and the first nationally branded deli-meat boasting the delectable teriyaki flavor profile. Unlike many other teriyaki products, Boar's Head Bold Ichiban Teriyaki Style Chicken Breast is made without the use of soy, gluten and added MSG.
Boar's Head products are available at select supermarkets, gourmet stores and fine delicatessens nationwide. For more information about Boar's Head and the Bold product line, please visit http://www.boarshead.com, like us on Facebook at http://www.facebook.com/boarshead and follow us on Twitter @Boars_Head and Instagram @boarshead_official.
About Boar's Head
Founded in 1905, Boar's Head Brand has upheld a commitment to unwavering standards of quality for over a century, refusing to take shortcuts that compromise the integrity of its products for the sake of convenience or economy. What started with just a few products has grown to more than 500, ranging from premium delicatessen meats, cheeses and condiments to an array of Italian and Old World specialties, hummus and foodservice items. All Boar's Head meats, cheeses, spreads and condiments contain no fillers, by-products, MSG added, artificial colors or flavors, gluten or trans-fat.
About Culinary Institute of America
Founded in 1946, The Culinary Institute of America is the world's premier culinary college. Dedicated to driving leadership development for the foodservice and hospitality industry, the independent, not-for-profit CIA offers associate degrees in culinary arts and baking and pastry arts; bachelor's degree majors in management, culinary science, and applied food studies; and executive education through its Food Business School. Its conferences and consulting services have made the CIA the think tank of the food industry in the areas of health & wellness, sustainability, world cuisines & cultures, and professional excellence & innovation. The college also offers certificate programs and courses for professionals and enthusiasts. Its worldwide network of 48,000 alumni includes leaders in every area of foodservice and hospitality. The CIA has campuses in New York, California, Texas, and Singapore.
MEDIA CONTACTS:
Meredith Bombella
Boar's Head Brand®
Tel: (941) 955-0994
Email: meredith(dot)bombella(at)boarshead(dot)com
Isabel Peña Alfaro
FleishmanHillard on behalf of Boar's Head Brand®
Tel: (212) 453-2431
Email: isabel(dot)penaalfaro(at)fleishman(dot)com