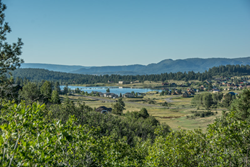 For the investor, The Reserve at Pagosa Peak was designed for the ease of second home ownership. This development established a record price for vacant land properties in the county of Archuleta.
Pagosa Springs, CO (PRWEB) June 30, 2016
19 building sites in the Reserve at Pagosa Peak will be selling at public auction on July 8, 2016 at 11:30mst on site.
Bordered by the San Juan National Forest on three sides, The Reserve at Pagosa Peaks spans 239 breathtaking acres and offers a range of exquisite, low maintenance home sites in a setting of unparalleled natural beauty. From every vantage point, during every season, you will find a feast for the eyes and the senses. Lush meadows, rolling hills and ridges heavy with native timber are framed by some of the most enchanting and inspiring mountain views in the region. Over 100 acres of protected open space, including preserved wetlands, attract and support an abundance of elk, deer, birds and other wildlife.
Whether you choose a home site with open skies and expansive views or a more secluded setting, you will enjoy the best of mountain living in a community designed with your convenience in mind. Paved boulevards, city water and sewer and underground utilities in a private exclusive gated community provide a level of comfort and peace of mind rarely found in a rural residential development all just within minutes from the shopping, dining, amenities and hospitality of Pagosa Springs and you can walk out your door to the thousands of acres of National Forest.
The land auctions will be conducted by real estate auctioneers Lippard Auctioneers, Inc. and Team Murphy Realty, LLC.
For more information on the auction, please visit http://www.pagosaauction.net or contact us at 580-237-7174.