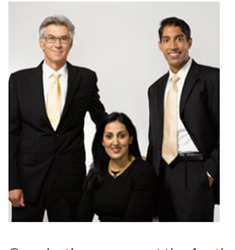 Naples, FL (PRWEB) June 28, 2016
Aesthetic Surgery Center is relocating its practice in Naples to a beautiful new location across the street. The current location at 11181 Health Park Boulevard will close when the Center opens its new location nearby at 1175 Creekside Parkway, Suite 100 in Naples. The new building will include a full operating room, additional exam rooms, and improved spa facility.
The Aesthetic Surgery Center has been at its current location for 22 years. Construction on the new building began in November 2015 and is scheduled to be completed in August of this year. The new building, located off Immokalee Road east of Tamiami Trail North, is a two-minute drive from the old office.
Dr. Anurag Agarwal, medical director of the Aesthetic Surgery Center, said, "We are very excited about this new era for our practice. The expanded facility will better accommodate our growing practice and ensure that we can continue to provide the highest quality plastic surgery care to all of our patients."
Aesthetic Surgery Center will continue to offer surgical and non-surgical procedures, as well as spa services. The medical team is comprised of three specialists. Dr. Anurag Agarwal and Dr. Richard Maloney, both facial plastic surgeons, focus on procedures for the face and neck. Dr. Kiranjeet Gill, a plastic and reconstructive surgeon, specializes in aesthetic surgery of the face, breast and body.
Dr. Agarwal states that all three physicians look forward to moving to the new facility. "As our practice has grown over the years, so has the need for a larger space. We've designed the new building from the ground up to better meet the needs of our patients and staff."
Surgical procedures performed at the Center include the UpLift™ face and neck lift (developed at Aesthetic Surgery Center) for tightening the jawline and upper neck, endoscopic midface lift (which uses fewer and smaller incisions to achieve rejuvenation of the brow and midface complex), Finesse rhinoplasty (designed to refine and reshape the nose and improve nasal function for easier breathing), precision laser eyelid surgery, facial implants, laser resurfacing, breast enhancement, body contouring including liposuction, mommy makeovers, and tummy tucks.
According to Dr. Kiranjeet Gill, "We have always offered state-of-the-art surgical procedures. Now we will have a new, state-of-the-art facility with a fully accredited operating room as well."
Non-surgical procedures offered at the Aesthetic Surgery Center include Botox and filler injections, laser skin treatments, skin tightening and skin smoothing using radio frequency technology and the UltraShape™ permanent non-invasive, fat reduction treatment.
The redesigned specialty skin spa at Aesthetic Surgery Center will offer a more relaxed, private experience for patients. A team of licensed aestheticians will perform treatments including microdermabrasion, medical-grade chemical peels and facials. Aesthetician Katherine Albert said, "I look forward to continuing to offer our clients therapeutic treatments in our beautiful new spa environment."
For more information, please visit the website, http://www.aestheticsurgerycenter.com.
Contact:
The Aesthetic Surgery Center
Telephone: 239-594-9100
New address: 1175 Creekside Parkway
Suite 100
Naples, FL 34108