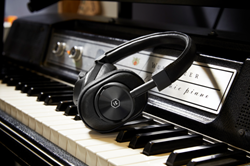 New York, NY (PRWEB) June 28, 2016
Today, premium audio company Master & Dynamic added another colorway to its collection, one that is sure to fit in with fellow New Yorkers. The black metal, black leather MW60 Wireless Over Ear Headphones mark the third colorway for the brand's first wireless product, which is also featured in silver/brown and gunmetal/black. All are available for $549 at http://www.masterdynamic.com.
Named the best wireless headphones of 2015 by esteemed tech outlet WIRED, the MW60 has earned high marks for its "form meets function" design. The headphones contain custom 45mm neodymium drivers and a patent-pending all-aluminum antenna, providing listeners with a sophisticated sound and best-in-class signal range. The MW60 also accommodates multi-point connection and features a 15-hour lithium ion rechargeable battery, which, much like the new colorway offering, give the user a multitude of useful options.
Thus far Master & Dynamic has unveiled a number of exciting projects in 2016, including a new limited-edition cobalt blue colorway exclusive to luxury boutique Colette in Paris and the first official headphones of legendary rock band The Rolling Stones. The brand's commitment to excellence earned it high marks in 2015 as well, with the release of a number of products and designs such as the MW60 Wireless Over Ear Headphones and the brass ME05 Earphones.
About Master & Dynamic
Master & Dynamic is a premium audio brand obsessed with sound and creativity. It is a New York City-based company with a deep passion for building beautifully crafted, richly appointed, technically sophisticated sound tools for creative minds. Its collection of headphones are tuned to provide a rich warm sound that perfectly captures the exceptional detail of well recorded music. Master & Dynamic sees its headphones as modern thinking caps: tools to help focus, inspire and transport your mind. Designed for decades of use, Master & Dynamic products are engineered to last, utilizing only the finest materials such as premium leathers and stainless steel, which create the perfect balance of aesthetics, strength, comfort and sound. View the entire collection at http://www.masterdynamic.com.