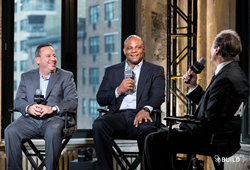 AMP aggregates virtual gifting programs with traditional media, such as: TV, radio, print, and outdoor using patent-pending software.
Irvine, Calif. (PRWEB) June 29, 2016
H. Warren Moon and David C. Meltzer of Sports 1 Marketing LLC, Irvine, California, today announced that their companies Aggregated Marketing Platform Inc. ("AMP") and Processing for a Cause Inc. ("PFAC") plan to "go public" pursuant to a letter of intent signed with Acquired Sales Corp. (OTC Pink: AQSP). Closing of the transactions is subject to the fulfillment of several conditions.
"I've been blessed to be a industry leader in both technology and sports, and can't think of a better partnership built for growth and success," says David Meltzer, CEO of Sports 1 Marketing.
AMP aggregates virtual gifting programs with traditional media, such as: TV, radio, print, and outdoor using patent-pending software. AMP is negotiating with several professional sports teams to launch its aggregated marketing platform starting in July 2016. The AMP allows companies to sponsor, brand, and market their products at major sport and entertainment events by sharing traditional advertising vehicles. Virtual gifting allows companies to promote their products directly to customers using smart phones or computers, driving traffic to a sponsor's website, brick and mortar store, or direct to consumer shipments.
PFAC creates programs designed to benefit not-for-profit entities to help organizations raise money through credit card processing. This program creates predictable revenue sources allowing organizations to focus on their mission to help others.
AMP and PFAC were both launched by Sports 1 Marketing in January of 2016.
Following the acquisitions, H. Warren Moon and Gerard M. Jacobs will serve as Co-Chairmen of Acquired Sales, and David C. Meltzer and Gerard M. Jacobs will serve as Co-CEOs of Acquired Sales.
"As a Hall of Fame Quarterback I have played with some of the greatest athletes in the world. Camaraderie and energy between co-workers and managers, similar to teammates and coaches, is one of the most valuable assets a company can have," says Warren Moon, Co-Founder and President of Sports 1 Marketing. "Putting people first creates an unparalleled office environment in which I am excited to continue to build a team on our shared values."
Gerard M. Jacobs, the Chairman and CEO of Acquired Sales, said, "We believe that Warren Moon and Dave Meltzer's vision for aggregated online and traditional marketing, starting with virtual gifting program nights at major professional sports and entertainment events, has the potential to disrupt the marketing industry. Acquired Sales is excited to partner with Warren and Dave, and to benefit from their years of experience and contacts."
About Sports 1 Marketing
Founded by Hall of Fame Quarterback Warren Moon and veteran sports & technology executive David Meltzer, Sports 1 Marketing is a global sports and entertainment marketing agency that leverages over $20 billion in relationship capital and over 38 years of business experience, bringing athletes, celebrities and businesses together to make a lot of money, help a lot of people, and have a lot of fun.
Cautionary Note Regarding Forward-Looking Statements
Certain statements in this document are "forward-looking statements" within the meaning of the Private Securities Litigation Reform Act of 1995. Such information includes, without limitation, the business outlook, growth strategies, future plans, contingencies and contemplated transactions of the companies. Such forward-looking statements are not guarantees of future performance and are subject to known and unknown risks, uncertainties and other factors which may cause or contribute to actual results of these companies' operations, or the performance or achievements of these companies or industry results, to differ materially from those expressed, or implied by the forward-looking statements. In addition to any such risks, uncertainties and other factors discussed elsewhere herein, risks, uncertainties and other factors that could cause or contribute to actual results differing materially from those expressed or implied for the forward- looking statements include, but are not limited to: lack of brand awareness; balance sheet weakness and need for additional capital; potential for dilution; lack of a meaningful public market for our stock; uncertain economic conditions; risks and limitations associated with personnel and contracts; and risks associated with protection of intellectual property. Sports 1 Marketing, LLC undertakes no obligation to publicly update any forward-looking statements, whether as a result of new information, future events or otherwise. Actual results, performance or achievements could differ materially from those anticipated in such forward-looking statements as a result of certain factors, including those set forth in Acquired Sales Corp.'s filings with the U.S. Securities and Exchange Commission.