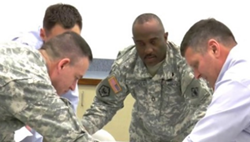 By engaging military members and their spouses early in the planning process, we can help them make a successful transition to life after their service. Programs such as Afterburner provide them with practical tools and professional advice.
San Diego, CA (PRWEB) June 29, 2016
San Diego Naval Base is the next stop for the USAA-sponsored Military Transition Seminar (MTS), where the Afterburner and USAA teams will deliver a free career planning seminar to current and former service members and military spouses. The full-day seminar is part of a larger initiative to encourage military members to think more strategically about their transition to civilian life well in advance of their separation or retirement dates.
The day-long transition preparation course will be held at San Diego Naval Base's Anchors Catering & Conference Center on Tuesday, July 12 from 0800 PST to 1700 PST. Registration opens at 0700 PST.
The MTS program, developed and delivered by Afterburner's team of current and former elite military professionals, provides a unique, first-hand perspective on military transition. MTS supports the current mandated transition preparation training known as the Transition Assistance Program (TAP), complementing the curriculum with a hands-on, strategic career planning workshop.
Participants develop career planning strategies, learn job search techniques, and interview preparation skills. Participants also learn how to incorporate all facets of their support network.
"By engaging military members and their spouses early in the planning process, we can help them make a successful transition to life after their service," said Mike Kelly, retired Air Force officer and assistant vice president of military advocacy at USAA. "Programs such as Afterburner provide them with the practical tools and professional advice needed to achieve their financial and career goals."
USAA has supported the MTS program since 2014, during which time the course has been delivered at 16 installations, enabling more than 2300 participants to create nearly 2100 transition plans. The partnership, which grows in popularity each year, is a testament to both organizations' commitment to and support of veteran initiatives.
"Most important, veterans are shown the importance of developing a lifetime civilian career as opposed to securing an initial job," said Jim "Murph" Murphy, Afterburner Founder and CEO. "The planning process used in the Military Transition Seminar is the same process Afterburner deploys to top corporations, providing each participant with an individual career plan, complete with a personal value proposition, career objectives customized to his or her previous experience, and insight into industries where military core competencies are in high demand."
The Afterburner and USAA teams will return to Fort Bragg, Fort Drum, Joint Base Lewis-McChord and Fort Bliss to complete the 2016 MTS schedule.
Learn more about the Military Transition Seminar, review the 2016 schedule and register online at http://www.flawlesstransition.com. Learn more about USAA's military transition tools and advice at usaa.com/leavingthemilitary.
About USAA
The USAA family of companies provides insurance, banking, investments, retirement products and advice to 11.4 million current and former members of the U.S. military and their families. Known for its legendary commitment to its members, USAA is consistently recognized for outstanding service, employee well-being and financial strength. USAA membership is open to all who are serving our nation in the U.S. military or have received a discharge type of Honorable – and their eligible family members. Founded in 1922, USAA is headquartered in San Antonio. For more information about USAA, follow us on Facebook or Twitter (@USAA), or visit usaa.com.
About Afterburner, Inc.
Afterburner Inc. trains global organizations in the simple, scalable improvement processes of Flawless Execution. Founded in 1996 by former U.S. Air Force fighter pilot James "Murph" Murphy, Afterburner is a Forbes' Best Small Companies in America and a four-time nominee to the Inc. 500/5000. Murph and his team of elite military professionals are regularly featured in leading publications like The Wall Street Journal, Forbes, Businessweek, Financial Times, Newsweek, Slate and Sports Illustrated, and appear on top networks like CNN, ABC, CNBC, Fox News, HLN and Bloomberg News. To learn more about Afterburner's innovative approach to building elite teams and Flawless Execution, visit Afterburner.com or call (888) 982-6764.