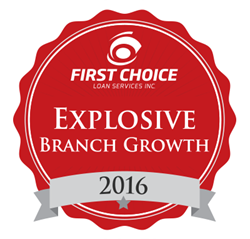 They motivate us, and we are glad to have them as a part of our family.
ADDISON, TX (PRWEB) June 28, 2016
New Jersey-based residential mortgage lender First Choice Loan Services Inc., a wholly owned subsidiary of First Choice Bank, proudly announces that its branch located in Addison, Texas, was named the company's Explosive Growth Branch for 2015. Josh Moody is the LPO manager, and Scott Comiskey serves as the branch manager.
Selected from 12 First Choice Loan Services locations, the Addison branch earned the Explosive Growth Branch through its remarkable increase in production from the previous year. In 2014, the Addison office produced over $107 million in loan volume. In 2015, the same office almost doubled that number and increased its loan volume to over $206 million.
The Addison branch includes Managers Chris Pedison and Amy Neal, Business Development Manager Beau Hailey, 23 mortgage loan originators, five mortgage loan originator assistants and eight loan processors. Offering loan products including FHA, jumbo, renovation and VA Loans, the team members provide exceptional service to their real estate and builder partners and the homeowners and homebuyers of Addison, Dallas, and the surrounding communities.
"It's really exciting for our office to receive the Explosive Growth Award. During this past year, I've witnessed our team working harder than ever before, so it's wonderful to see this new award come our way. It definitely motivates us to close out 2016 even higher so that we can earn it two years in a row," said Moody. "Of course, production levels and success like this would be in no way possible without the referrals from our homebuyers, homeowners and business partners. The trust that they repeatedly place in us means the world and is the true motivation to all that we do. We honor their belief in us through the dedication in which we serve them."
First Choice Loan Services President and Chief Executive Officer Norman T. Koenigsberg is very proud of this accomplishment of the Addison branch.
"The Addison office is one of the branches that has been with First Choice the longest. To see this team continue to flourish and grow is very exciting," said Koenigsberg. "Josh and Scott have created an environment in which their loan originators find individual professional success and, more importantly, provide exceptional mortgage experiences for their clients and partners. The passion for the work they do is what we desire in all the offices and originators we serve. They motivate us, and we are glad to have them as a part of our family."
Also receiving this award was the First Choice Loan Services' branch located in Southampton, Pennsylvania. This is the first year for First Choice Loan Services to bestow this honor.
About First Choice Loan Services Inc.
Headquartered in East Brunswick, New Jersey, First Choice Loan Services Inc. is a wholly owned subsidiary of First Choice Bank. Founded in 2009, the company is licensed to originate and close residential mortgage loans nationwide, excluding Arkansas. With 11 locations across 5 states and over 500 employees, First Choice Loan Services Inc. offers FHA and VA programs, Jumbo loans, fixed and adjustable rate loans, and refinancing and renovation programs. First Choice Loan Services Inc. is an Equal Housing Lender, NMLS #210764. Licensed by the New Jersey Department of Banking and Insurance. AZ BK# 0918586. To learn more about First Choice, visit https://fcloans.com/.
# # #