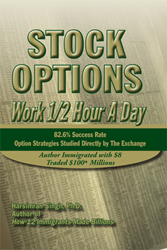 Learn To Work Smart, Not Hard.
NYC, NY June 26, 2016 (PRWEB) June 28, 2016
A webinar is being conducted to discuss the following topics:
How "Dr. Singh's 4 Legged Strategy" is a successful market tool for trading options whether underlying stock goes up, goes down or remains flat. How to trade options with over 90% success rate.
Dr. Singh has traded options for about 35 years. He is well known in the financial industry as "Stock Market Expert". He authored 12 books including. "Stock Options - Work 1/2 Hour A Day" and "How 12 Top Investors Made Billions In Stocks".
When asked how did he come up with these option trading strategies, he replied, "I learned this art from 12 billionaires as how to risk minimal to have big gains. "
Dr. Singh provides options trading advice to his clients. He provides an unique guarantee that if anyone loses money based on his monthly recommendations, he will refund double the money he was paid for his service.
Dr. Singh was awarded a Ph.D. based on his options trading strategies.
He provides free weekly tips through his newsletter, a free book on options trading and free webinars.
Click here to register for the next webinar being held on Wednesday, June 29, 2016 at 8:00 PM EST. Limited seats.