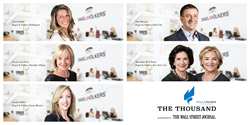 Our growth in key North America markets continues to accelerate as a result of the passion and commitment to quality demonstrated by the real estate advisors throughout our network." - Anthony Hitt, CEO, Engel & Völkers North America
New York, NY (PRWEB) June 29, 2016
Engel & Völkers, a European-based premium real estate brand, announced that four of the firm's United States real estate professionals and one of its top teams have been ranked in the 11th annual The Thousand list of America's top 1,000 real estate sales professionals and teams published by REAL Trends and The Wall Street Journal.
Carol Sollak, Engel & Völkers Wellington; Paul Benson, Engel & Völkers Park City; Nicole van Parys, Engel & Völkers Westlake Village and; Sandra Miller, Engel & Völkers Santa Monica, appeared among the Top 250 Agents by Sales Volume rankings. The Mercedes Berk team, led by Noel Berk and Elizabeth Mercedes Berk, Engel & Völkers New York City ranked 21 in the nation in the Top 50 Teams by Average Sales Price. All are a Private Office advisor, an exclusive international network of Engel & Völkers' top real estate professionals.
"We congratulate Carol, Paul, Nicole, Sandra, and Liz and Noel, and their team, for being among the best in the nation and true ambassadors of the Engel & Völkers brand," said Anthony Hitt, CEO of Engel & Völkers North America. "Our growth in key North America markets continues to accelerate as a result of the passion and commitment to quality demonstrated by the real estate advisors throughout our network."
REAL Trends The Thousand is an annual, national awards ranking sponsored by REAL Trends and advertised in The Wall Street Journal. Designees are recognized as the top one half of one percent of more than 1.1 million licensed Realtors® nationwide.
"The real estate sales professionals ranked in The Thousand have proven they have the skills to grow their business year after year," said Steve Murray, president of REAL Trends and publisher of The Thousand. "The average real estate agent in the U.S. sold seven homes in 2015. The average agent ranked in The Thousand sold 202 homes and the average team sold over 433 homes. These kind of results show that those who commit to being full time professionals can build meaningful businesses and succeed beyond anyone's expectations. Achieving this level of results is simply incredible."
The ranking of The Thousand can be found at: http://www.thethousandrealestateprofessionals.com
Methodology
REAL Trends The Thousand awards program was developed jointly by WSJ. Custom Studios and REAL Trends, a leading source of analysis and information for the residential real estate brokerage industry. The Thousand honors America's finest real estate agents and their companies and is compiled and analyzed by REAL Trends.
Rankings are compiled based on surveys from virtually every national branded network, state and local associations of REALTORS®, multiple listing services, all applicants from past years' rankings, and the 900 largest brokerage firms in the United States. Verification from an independent source is required for all submissions. In addition, REAL Trends senior staff reviews every submission for completeness and accuracy.
About Private Office
Private Office is Engel & Völkers' reserved brand of client service available exclusively to the company's most valued clients. In order to join Private Office, advisors within the Engel & Völkers network must be nominated by their brokers and are selected based on their consistent, year-after-year production, market expertise, notably high quality service and passion as real estate professionals. Clients are also asked to comment on their service experience as part of this process. Nominees are then submitted to a North American selection committee who decide which candidates meet all requirements for final submission to the head of Private Office in Hamburg, Germany.
About Engel & Völkers
Since its beginning in 1977 as a specialty boutique providing exclusive, high-end real estate services in Hamburg, Germany, Engel & Völkers has become one of the world's leading companies specializing in the sale and lease of premium residential and commercial property, yachts and private aviation. Engel & Völkers currently operates a global network of over 8,000 real estate advisors in more than 700 brokerages 36 countries across five continents, offering both private and institutional clients a professionally tailored range of luxury services. It established its North America corporate headquarters in 2007 and opened its first brokerage in the same year. Committed to exceptional service, Engel & Völkers supports its advisors with an array of premium quality business services; marketing programs and tools; multiple platforms for mobile, social and web; as well as access to its global network of real estate professionals, property listings and market data. Engel & Völkers is an active supporter of the Fair Housing Act and the Equal Opportunity Act. Each brokerage is independently owned and operated.