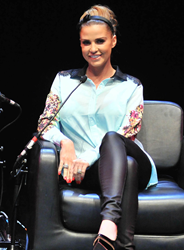 Although breast augmentation procedures are more widely known, [plastic surgeons] also offer safe and effective breast reduction procedures for patients who want to reduce their breast size.
Los Angeles, CA (PRWEB) July 01, 2016
The success story of English TV personality Katie Price's recent breast reduction surgery was recently detailed in an article published June 10 on Lifestyle One. The medical team at Beverly Hills Physicians (BHP) notes that, although breast augmentation procedures are more widely known they also offer safe and effective breast reduction procedures for patients who want to reduce their breast size. BHP notes that their breast reduction surgery procedures are often sought after by patients for a variety of reasons, such as;
Physical Restrictions - Some women often experience physical limitations due to the size and weight of their large breasts. Physically, large breasts can often get in the way of performing simple tasks such as walking and standing for long periods of time, and can make participation in certain sports extremely difficult. The highly experienced team of surgeons at BHP notes that breast reduction is a procedure that makes it more likely for women to be able to become increasingly active and comfortable during their daily activities.
Back and Neck Strain - The weight of large breasts can seriously strain the back and neck of a patient. This can cause physical discomfort and often leads to poor posture. BHP notes that their extremely safe and effective breast reduction procedures provide relief on the patient's back and neck, while also drastically improving their posture. In the long run, BHP notes, various back and neck complications are more likely to be avoided in the future after a patient undergoes breast reduction surgery.
Unwanted attention - BHP notes that women don't always undergo breast reduction only to experience improvements in their posture and adjust their body proportions. Many women, particularly younger women, experience unwanted attention and possibly negative perceptions solely based on their large breast size. This often leads to body image issues and anxiety that can negatively affect a patient throughout her life. Breast reduction surgery in these cases, BHP notes, enables women to experience a drastic improvement in their overall comfort and sense of self-confidence.
Beverly Hills Physicians concludes by noting that, although they offer a variety of safe and cutting-edge plastic surgery procedures that enhance and augment various aspects of the figure, breast reduction surgery is an ideal option for many women, and even some men, that are physically uncomfortable or self-conscious about their breast size. To learn more information about various cutting-edge and effective plastic surgery procedures offered at Beverly Hills Physicians or to book a consultation, interested readers can call BHP at 800-788-1416 or visit their website at http://www.BeverlyHillsPhysicians.com.