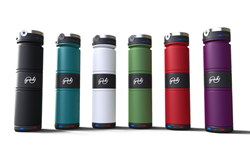 We were excited to find out that we exceeded $100,000 in sales in only 10 days, which makes the Golchi only the second bottle to achieve this goal and represents a testament to its popularity in the marketplace,
Chicago, Ill. (PRWEB) June 28, 2016
The new Golchi travel bottle achieved a milestone on Kickstarter today, garnering more than 1,500 backers representing around $120,000 in consumer investment – making it the second bottle product ever on the crowdfunding network to achieve this milestone in 10 days as Golchi is trending to become the most successful bottle campaign on Kickstarter.
"We were excited to find out that we exceeded $100,000 in sales in only 10 days, which not only makes Golchi the second bottle to achieve this goal but also represents a testament to its popularity in the marketplace," said Golchi Co-founder and creator Harsh Garg. "Not only is Golchi a hit in the United States and Canada, but it's also fast attracting backers in many other countries including Australia, the Asian Pacific nations, the Middle East and in Europe."
Garg, along with his wife and Golchi Co-Founder Ankita Garg, say they are being overwhelmed with requests from distributors and retailers from around the world that want to carry the new product – a versatile multi-liquid bottle that carries hot and cold liquids along with snacks at the same time.
"The level of interest has been great, but the Kickstarter community gets all the credit for our success…and they'll continue to get discount pricing through the duration of the campaign," Garg said.
Designed to solve some of the bottle issues Garg dealt with as a traveler himself, Golchi was created to help anyone who's ever struggled carrying two drinks to their destination (coffee & water/smoothies, etc.). Golchi's double-walled vacuum insulation keeps hot drinks hot for 12 hours and cold drinks ice cold for 24 hours – and the pouring spout can be adjusted for hot or cold beverages. Golchi also features the first modular-bottle design, which allows users to rearrange it in four different configurations to also carry powders (protein) or solids (snacks). The bottle has the ability to adapt to every drinking situation and be used in four different modes – going from big-to-small or becoming one or two bottles in an instant. Its modular design also includes a separate storage compartment, offering the perfect place to store protein powder, baby formula, cereal, snacks and medicines.
Golchi's multi-purpose lower compartment is standardized to carry soda cans and, because of its wide mouth, it can also be used as a food canister for carrying breakfast cereals or a variety of snacks. For tea lovers, it also has an add-on: a collapsible tea infuser that can be carried in the middle compartment and placed on the mouth of lower compartment when in use.
Less than two weeks into the Kickstarter campaign, Golchi has quadrupled its initial campaign goal of $30,000.
The Golchi is available for pre-order at discounted prices on Kickstarter through mid-August.
About Golchi
Golchi LLC is a Chicago-based startup company focused on re-imagining everyday products for people with active lifestyles. 'Golchi' was created with 'GO' and 'Chill' as two core ideas and a name free from confines of any language. The company also developed a logo that has character, is compatible with 'invertible' nature of our bottle and representative of the thought put into the bottle design. The terms "go" and "ch" in the logo denote two compartments of our bottle. The two dots on the sides of the logo depict two openings on the either side of our bottle. The logo is also an ambigram, which when rotated by 180 degrees in any direction, it retains its identity. For more information, visit http://www.mygolchi.com.